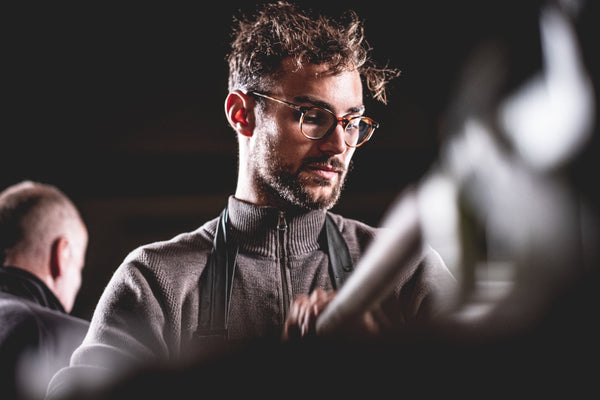 Carl Loewen
Carl Loewen is one of Germany's best traditional wine houses in Mosel. Its history goes all the way back to 1803, when the house's first barns in Maximiner Klosterlay were bought. The same nurseries are still at the core of Loewen's production. The operation was expanded in 2008, when Carl Loewen acquired the Carl Schmitt-Wagner winery Maximin in Herrenberg. Tarho's ungrafted Riesling vines planted in 1896 are among the oldest in the world.
Weingut Carl Loewen is a family farm focusing only on the production of Riesling. Today, the operation of the farm is in the hands of Christopher Loewen, who is in his thirties, and he only has his father Karl Josef, who is over 65 years old, and one employee to help him in running the farm and in the paddocks. Chris's wife also helps her husband while taking care of the couple's small children. Despite his young age, Chris already won the winemaker of the year title in 2017 from Stuart Pigott, one of the world's leading wine critics. In recent years, Loewen's farm has received top marks from several quarters, and Falstaff, for example, listed Loewen's 2015 vintage as the collection of the year in its guide published in 2017.
The Loewen nurseries cover a total of 17 hectares and are located around the villages of Leiwen, Longuich, Detzemi and Thörnich. The most unique of the stables is undoubtedly the steep Maximin Herrenberg, located in Longuich, which is divided into two parts, the upper and cooler part of which is simply called Herrenberg. The soil of both parts of the park is very iron-rich Devonian volcanic slate.
Craftsmanship is cherished on the farm, both in harvesting and in the winemaking phase. We want the characteristics of the grapes and terroir to be tasted in the wine, so in the cellar we try to interfere with the winemaking process as little as possible. No mechanical pumps are used, the grapes move by gravity. When the grapes arrive, they are pressed immediately and the juice is allowed to settle for a day. The wines ferment spontaneously with the help of wild yeasts without temperature control, and no enzymes or other additives are added to them. Some of the basic wines age and mature in steel tanks, while the Palst wines rest in traditional Moselian fuder oak barrels on fines until bottling.
According to Christopher, Mosel Riesling is mild at best, but full of character. We aim for this ideal with top-quality terroir, old vines and organic and traditional viticulture as much as possible.
The farm's annual production is around 200,000 bottles.
http://weingut-loewen.de/?p=en