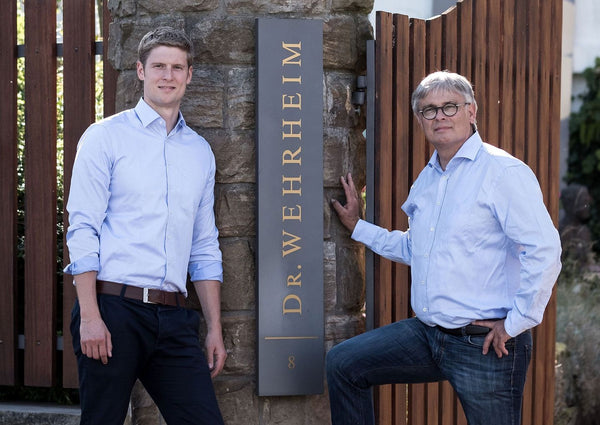 Dr. Wehrheim
Dr. Wehrheim is a family farm that has been producing wines in the German Palatinate since 1920. Natural production methods are one of the cornerstones of winemaking, and all the farm's wines are produced using organic methods. The farm is run by father Karl-Heinz and his son Franz Wehrheim. The duo is known for quality and balanced wines that elegantly represent their origins. Grandfather Dr. Heinz Wehrheim Senior has retired from day-to-day nuclear operations to support forces, but his solid knowledge is still highly valued at the farm.
Wehrheim's holdings cover an area of 17 hectares and the production focuses on the typical grape varieties of the region, Riesling, Weisser Burgunder (Pinot Blanc) and Spätburgunder (Pinot Noir). In addition to these, small amounts of Pinot Gris, Chardonnay, Silvaner, Muskateller, Merlot and Cabernet Sauvignon are cultivated on the farm. The Wehrheim winery belongs to the VDP association of German quality wine producers and is one of its oldest members.
At the cellar, traditional production methods are applied to modern technology. Depending on the wine, steel tanks or oak barrels are used as fermentation vessels. After the fermentation process, the wines are allowed to rest for the time they need, as the wines are only released when they are judged to be sufficiently developed and expressive. The aim is to bring out the unique growth areas in each wine.
Dr. Wehrheim's production has followed biodynamic principles since 2007. The wines have been certified organic since 2010. The family producer believes that the natural production methods are reflected in the taste profiles of their wines, but environmentally responsible production methods are also considered an essential added value, which enable suitable wine growing conditions for the next generations as well. At Wehrheim, the cultural-historical heritage of the German wine regions is valued and its preservation is one of the important pillars of the operation. The water used in the cellar is heated by solar power and the total energy consumption is closely monitored. In 2018, the farm managed to save up to 8,656 kg of carbon dioxide with the measures it chose.
https://weingut-wehrheim.de/