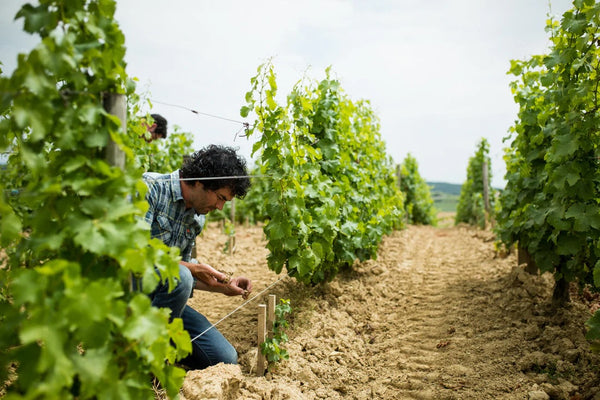 Claude Riffault
The Sancerre wine region is located on the left side of the Loire River, about 200 kilometers south of Paris. The entire area covers approximately 3,000 hectares of vineyards, 80% of which are dedicated to the cultivation of Sauvignon Blanc and the remaining 20% ​​to Pinot Noir. In the small village of Maison Sallé, north of the city of Sancerre, in the district of the city of Sury-en-Vaux, there is the winery of Claude Riffault, which today is run by the fourth generation winegrower, Claude's son Stéphane Riffault. Stéphane and his wife Bénédicte's vineyards are organically and biodynamically certified, covering a total of 15.3 hectares. Sauvignon Blanc covers 13 hectares of the orchards, while Pinot Noir is cultivated on the remaining 2.3 hectares.
The paddocks are cared for by hand, following the cycle of the moon, for example when plowing the land. The yield of the vines is very severely limited by annual cutting, although in the northern region nature also takes care in many years that the yield does not get very high. No chemicals are used in the nurseries and, unlike in the region in general, under Bénédicte's guidance, the harvest is done entirely by hand. The grapes from 8 different orchards and 33 different plots located in 4 different cities are vinified separately, because the soils of the orchards are very diverse and varied, consisting of Kimmeridge limestone, silex and calcareous clay. The grapes are carefully sorted when they arrive at the farm, before they are crushed and pressed.
All wines ferment spontaneously without added yeasts, and malolactic fermentation of white wines is not allowed to occur. In the cellars, oak barrels of different sizes, large 2000-3500-liter oak vats and cement vats are used to bring out the origin of each wine in the best possible way. The wines are not filtered before they are bottled on the farm.
Stéphane's handprint shows his background of studying and working in Burgundy, for example in Olivier Leflaive's teaching. Stéphane's brother is currently working on the farm of the popular Burgundy producer Etienne Sauzet. Although several of Stéphane's and Bénédicte's orchards go south, all the estate's wines are supported by incredibly sharp acidity, which makes the wines very long-lived.
https://www.clauderiffault.com/