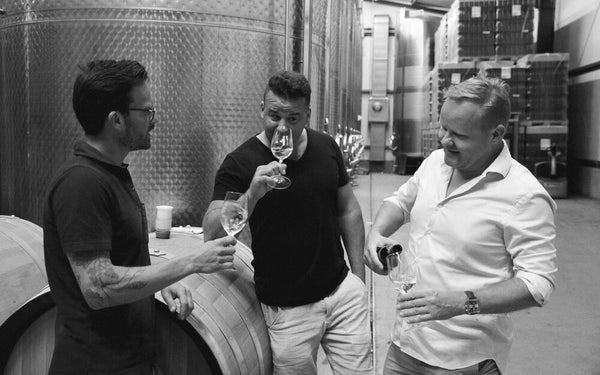 X-Berg
We are wine wholesalers, but also winemakers. The X-Berg wine series was born as a collaboration between us and our German winemaking friends, offering exceptionally recognizable and indisputably high-quality wines to the market in terms of price, quality and individuality. When the wines are made at farms belonging to the German Quality Wine Producers Association VDP, their quality is undeniably top class.
The ability of Markus Lundén, Fritz Becker, Carolin Spanier-Gillot, Franz Wehrheim and Christian Ress to make excellent wines in good years is known to everyone, but we have been convinced by their skills even in more demanding vintages. X-Berg Riesling and Organic Riesling Feinherb, Organic Silvaner, Pinot Noir Rosé and Pinot Noir are unbeatable examples of the possibilities of German Riesling, Silvaner and Pinot Noir in their respective categories. The wines combine the friendship's love for grapes that produce the best wines in these regions: Riesling in Rheingau and Pfalz, Silvaner in Rheinhessen and Pinot Noir in Pfalz.
Over the years, Markus Lundén and Christian Ress have become very familiar with the Rheingau shelters on the family farms of Georg Breuer and Balthasar Ress. The vines growing in the Rheingau orchards produce grapes that taste pure fruitiness and steely fresh acidity. Launched as a novelty, Riesling in half the bottle size enables wine to be enjoyed also with a smaller group and as part of everyday life.
Born in the spring of 2022 in the X-Berg family, behind the Organic Riesling Feinherb is the award-winning winemaker Franz Wehrheim, who, despite his young age, is one of Germany's most thoughtful and intelligent winemakers. Nothing but top quality comes from Franz's hands!
Fritz Becker is the dynamic winemaker of the family farm, who is especially known for his red wines. Fritz produces both X-Berg Rosé and X-Berg Pinot Noir from Pinot Noir grapes collected from the borderlands of Palatinate and Alsace.
Carolin Spanier-Gillot is incredibly energetic and determined in managing not only her two family farms, BattenfeldSpanier and Kühling-Gillot, but also taking care of her two teenage sons and her marriage. Carolin's winemaking skills have been awarded numerous times and X-Berg Silvaner also offers its drinkers an authentic experience of the grape's potential in Rheinhessen.
Toni Immanen is the CEO of Viinitie, but above all a wine lover and insatiable to innovate new wine projects. Together with his friends, Toni has succeeded in creating a recognized and appreciated wine series from X-Berg.
You can read more about X-Berghere .