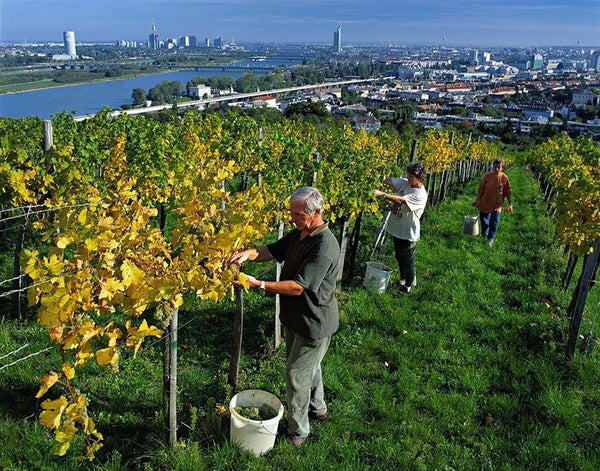 Wieninger
Natural wine production from within the borders of a big city? Yes, the Austrian capital is not only famous for Mozart kugels. Wine is produced in abundance in the Vienna region, the combined area of the vineyards is nearly 700 hectares, but because the townspeople are a thirsty sort, there has traditionally not been enough to export. In recent years, Vienna's city wines have set out to conquer the world on the path indicated by the most successful producers.
Wieninger's wine house and Vienna's quality wines are almost synonymous, and it's not just the obvious similarity of the names. The "man from Vienna", Fritz Wieninger, who has been in charge of the farm's wines since 1987, has won almost all the major winemaking awards that are given out in Austria. When you raise the glass to your lips and take a sip, it's easy to agree with the vision. In just three years, Fritz earned himself the Winemaker of the Year award and today his wines are drunk in up to 42 different countries on every continent of the globe.
Wieninger grows a wide range of grape varieties typical of the region in his orchards covering 55 hectares. In addition to traditional Austrian varieties, the nurseries also grow international varieties, as there is a wine school near the farm, which has planted several different grape varieties in the area. In some of Wieninger's nurseries, a dozen different varieties grow in confusion. This method, known as the Gemischter satz growing method, served as insurance for the farmer in the past years: unforeseen diseases, mold or maturity problems often plagued one or two varieties at a time, in which case the other varieties produced healthy grapes and the farmer was able to make wine every year. In Wieninger's skilled hands, a fresh and nuanced wine is created, which even the most discerning of palates will not mistake for Chardonnay.
Wieninger vineyards are located on the slopes of the Nussberg mountain, which dominates the city of Vienna, and from which one of the world's most interesting vineyard landscapes opens. The combination of an urban city and organic vineyards is worth seeing. Wieninger makes its wine respecting nature's carrying capacity and utilizing biodynamic principles in the premises of a monastery that operated in the 16th century. According to Fritz, the chosen winemaking philosophy produces balanced and elegant wines.
The farm's annual production is around 400,000 bottles.
https://www.wieninger.at/?lang=en