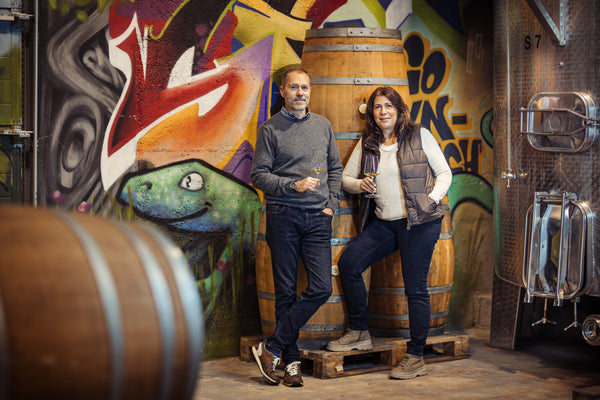 Weszeli
The story of the Weingut Weszel estate began as early as 1679, when the Summerer family started farming and winemaking in Langenlois. The know-how was passed from one generation to the next, developing towards the current style, where organic winemaking is supported by modern technology. After more than three hundred years of mixed farming, Alfred Summerer completely converted the tilus into vineyards. In 2011, a new era in the farm's history began, when Davis Weszeli, who previously worked in a completely different field in Vienna, decided to take a leap into the unknown and buy the farm for himself. Today, Davis runs the place together with his wife Bettina, and could never imagine returning to city life and the busy business world.
Weszel's plots are located in Kamptal, Austria, around the village of Langenlois. Weszeli produces high-quality white wines from the Grüner Veltliner and Riesling varieties on an area of ​​30 hectares. The vineyards are divided into nine different plots on the west, east and north sides of Langenlois. The microclimate and different soils of each plot produce distinctive wines that represent their terroir. Grüners cover 80% of the production and Rieslings 20%. Weszel's production methods are organic and the wines are certified organic from 2020. In 2021, the orchards and wines also received the biodynamic Demeter certificate.
The grapes are picked by hand and pressed gently without breaking the stems. All wines go through temperature-controlled fermentation in steel tanks. The methods of aging the wines are individual, but the basic principle is the moderate aging of the Palst wines in oak barrels and the release at the earliest after 24 months of aging. Other wines are also allowed to mature for at least half a year.
The farm's philosophy is the "Terrafactum Principle", according to which vineyards and their diversity are the basis of quality wine production. A lot of work is done in the orchards, respecting nature, because according to Weszel, it is precisely in the orchards that the wines develop their characteristic character. The humus content of the soil is nurtured and its abundance is promoted by the Weszel couple, constantly developing the soil management methods of the nurseries. From spring 2021 onwards, a herd of sheep will also work in the nurseries to help people. The importance of working in the garden is supported by the prevailing idea on the farm "do as little as possible in the cellar". The most important thing is to keep the soil of the vineyards alive.
https://www.weszeli.at/en