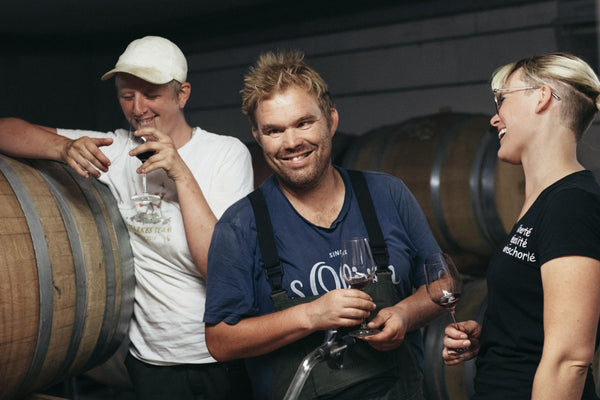 Weingut Lebenshilfe
The Weingut Lebenshilfe winery in Bad Dürkheim is not a family farm, although everyone who works at the farm feels like they are part of one big family when they give their whole heart, soul and contribution to the project. The Palatinate winery is part of the local Lebenshilfe, which in turn belongs to a private organization with the purpose of offering employment and training opportunities to Germans with intellectual disabilities and mental health problems, from babies to adults. In addition to running the winery, Lebenshilfe's activities in the Palatinate also include a wood workshop, a metal workshop, and a garden, and up to 1,100 people are involved in the activity.
The Weingut Lebenshilfe team consists of 45 employees with intellectual disabilities and six professional winemakers. From the beginning of the project, its guiding principle has been to respect and support not only nature, but also the diversity of life. Most of the project's employees have special needs, so they need daily support to be able to function in the working environment created by the winery. The winery that started with 3.5 hectares today covers up to 24 hectares, which are worked with passion and dedication. Several of the nurseries are old terraced plantations, to which the project has enabled a new life.
All the farm's wines come from orchards cultivated with organic methods, so both ecological and social responsibility are carried hand in hand. 98% of the grapes in the orchards are picked by hand. Since December 2018, Viinitie's long-time friend Gabriel Huber has been in charge of the farm's wine production, whose influence can already be seen in the farm's wines. Each farm employee is allowed to develop and grow independently, and Gabi, together with head winemaker Marleen Müller, follows the same philosophy in making the wines, giving them the resources they need in terms of time and space. The wines are vinified in such a way that they are faithful to their varieties and vintages, which is why the measures taken in the nurseries and cellars are not carried out with a handbook, but by listening to the nature of the vines and the wines - as well as their growers and makers. More and more wines are allowed to ferment spontaneously without added yeasts, and knowing Gabi, we know that the already high quality of the wines is guaranteed to improve even more.
The farm's annual production is around 160-200,000 bottles.
https://www.lebenshilfe-duew.de/viniculture/