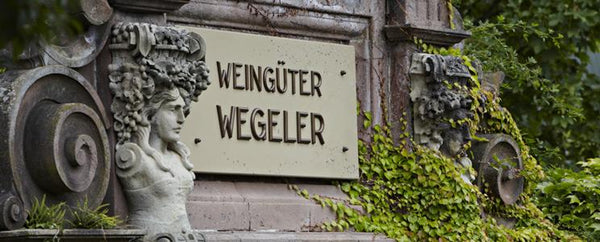 Wegeler
The Wegeler winery is exceptional in Germany, as the family farm founded in 1882 has farms along the Rhine and Mosel rivers. Both Rheingau and Mosel are known as regions suitable for Riesling production, and when tasting the estate's wines, the differences between the regions come out beautifully. The whole is completed by the 5-hectare Krone farm acquired in Assmannshausen, Rheingau in 2007, where a few different red wines are made from growing Pinot Noir vines.
Julius Wegeler, who founded the farm, was a wine merchant and participated in the production of sparkling wine at the Deinhard farm, before starting to produce wines under his own name. According to Julius, the most important thing about the wines of the time was their origin and maturity, and often the wines were left to mature on the lees for at least two years, with the best individuals maturing even longer. Making a top wine required vision, cool maturation conditions and time.
The main office of the farm was established in the village of Oestrich-Winkel, and Julius at the same time began to acquire the top orchards of both Rheingau and Mosel in order to be independent from other grape growers. In addition to his successful merchant background, he also wanted to gain respect as a wine grower, and succeeded in buying shares from prestigious premier and grand cru vineyards. Wegeler is known in Mosel as the biggest producer of Germany's most expensive breeder, Bernkastel Doctor. In addition, the producer has nursery areas in Badstube and Lay in Bernkastel, Himmelreich in Graach, and Sonnenuhr in Wehlen. The Rheingau shelters are located in the villages of Rüdesheim, Geisenheim, Johannisberg, Winkel, Oestrich and Mittelheim.
Even today, Wegeler is known for its long-matured and late-released wines. Cellar masters Michael Burgdorf, Andreas Holderrieth and Norbert Breit continue the estate's history by producing wines in a traditional style, honoring Julius Wegeler's long history also as chairman of the German Winegrowers' Association. Wegeler belongs to the VDP association of German quality wine producers. Wegeler has a total of 41.4 hectares of kennels in the Rheingau and 12 hectares in the Mosel. 70% of the farms in Rheingau are classified as Grand Cru and 20% as Premier Cru.
The estate's specialty is Geheimrat J, first produced in 1983, which is a dry blended wine made from up to 15 different Grand Cru grapes from the Rüdesheim, Geisenheim and Oestrich-Winkel regions, depending on the vintage. The precise limitation of the yield, selective hand-harvesting and long maturation on the lees make the wine very top quality, and the wine also exceeds the Grosse Gewächs requirements of the VDP by throwing.
Together with the fourth generation, Wegeler is currently run by Ralf Frenzel and Richard Grosche.
https://www.wegeler.com/en