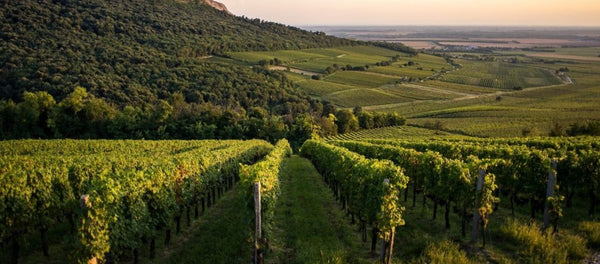 Vylyan
The Vylyani winery is located in the heart of the sun, in the area of Villány, famous for its red wines. The Mecsek mountain rising in the east-west direction protects the area from the cold north winds, and the old limestone soil creates an ideal basis for wine growing. Vylyanin started in 1992, when the then late Pál Debreczeni planted the first nurseries on the farm. Planting of the orchards continued until 2004, and today the farm's vines cover a total area of 120 hectares, facing south-east and south, which helps in the ripening of red varieties in particular. The planting density of the orchards is limited to 7,000 vines per hectare and the average yield is 40 hl/ha, which means that the concentration of grapes is optimal. The farm's winemaker is Tóth Sándor, and Mónika Debreczeni is otherwise responsible for running the farm.
Several local and international varieties have been selected for the orchards' grapes, such as Riesling, Welschriesling, Chardonnay, Csókszolô, Portugieser, Zweigelt, Pinot Noir, Blaufränkisch, Cabernet Sauvignon, Cabernet Franc, Merlot and Syrah. At harvest time, the grapes are carefully selected when they arrive at the winery. In the cellar of the farm, there are several 225-liter French and Hungarian barrels, as well as some large oak cases for maturing the wines. The farm's wines have received a lot of international attention, and according to the well-known wine critic Michel Bettane, for example, the farm's Pinot Noir 1999 is the best Pinot Noir from outside Burgundy that he has tasted.
Viinitie's selections include Kakas Rosé, a "flower wine" from the farm's Classicus series, and Villanyi Franc, from the Premium series. The wines of the Classicus series are made to bring out the characteristics of each grape variety and are ready to be enjoyed as soon as they arrive on the market. The labels of the series feature characters from an old local legend about a devil in love. Premium series wines mature in oak barrels for 12-18 months and are also suitable for bottle aging. These labels feature graphic elements that, together with the Hungarian texts and poems on the back labels, communicate the space's commitment to the country's modern art.
The farm's annual production is around 800,000 bottles.
https://www.vylyan.hu/
Tule mukaan luomaan parempaa viinikulttuuria
Me Viinitiellä uskomme, että Suomi on valmis parempaan viini- kulttuuriin. Ihmiset janoavat laatua, vastuullisuutta ja tarinoita yhä useammassa lasissa. Siksi haluamme olla entistäkin enemmän tämän kulttuurimuutoksen soihdunkantajia ja tuoda paremmat viinit kaikkien saataville.
Liity Viinitien Grand Crew -yhteisöön ja olet mukana tekemässä parempaa viinikulttuuria.
Powered by Shopify © 2023, Viinitie Oy