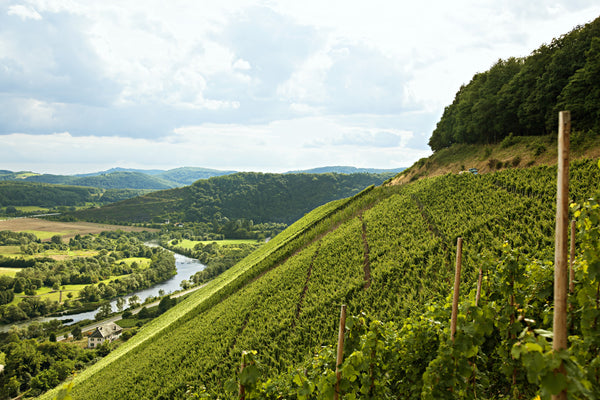 Von Othegraven
The best winemaker in Germany in 2023 - please.
The Von Othegraven family farm is located in the southwestern part of the Mosel, in the Saari valley. Since 2010, the farm has belonged to the German TV presenter Günther Jauch, whose grandmother belonged to the Von Othegraven family, being the sister of the previous farm owner Max Von Othegraven. In his childhood, Jauch used to spend holidays at the family winery and today he runs the farm together with his wife, already representing the seventh generation of the farm.
In all its simplicity, the estate focuses purely on the cultivation of Riesling. But what kind of wines are produced by the hands of winemaker Andreas Barth! Both the 2021 Altenberg Kabinett and the same year's Altenberg Spätlese were chosen as the best wines of the year in their respective categories in the Vinum Weinguide. In this way, the background of the mentions is the handiwork made with piety on the steep gardens and "controlled inactivity" in the basement. When the material used as a raw material is of high quality, the winemaker does not need to modify it by his own actions, so each wine in the cellar only needs to be gently controlled so that they create individuals that best express their own personalities.
Von Othegraven's kennels are located on the best plots of the island, including the Ockfener Bockstein, which opens like a theater, the historic Wawerner Herrenberger, and the famous Kupp of the village of Wilting. The Altenberg plot in the village of Kanzem is the producer's main garden, located right behind the winery. It is indeed the longest steep section in Germany, which rises to a height of 250 meters in some places, very steeply. In total, there are 16 hectares of nurseries in production.
The farm's Rieslings are especially known for their delicate liveliness, restrained reductive style, and endless cellaring potential. The farm's annual production is around 100,000 bottles.
https://www.von-othegraven.de/