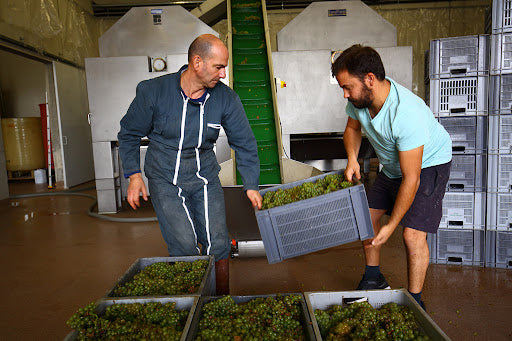 Vitteaut-Alberti
Located in southern Burgundy, in the village of Rully, the Vitteaut-Albert estate is known for its particularly high-quality and classic Crémant sparkling wines. The farm's story began in 1951, when Lucien Vitteaut married his wife, who came from Albert's family. Together, the couple decided to start producing sparkling wines using the traditional method and soon they managed to attract the attention of local restaurateurs and private wine lovers with their wines. After a few years, the couple's wines were sold at an annual rate of 18,000 bottles.
In 1968, the family's son Gérard, together with his wife Danielle, joined the management of the farm to further develop its operations. They managed to commercialize the wine production chain and after finding numerous new customers from all over France, the farm's annual sales already rose to 30,000 bottles. During the 1970s, winemaking methods were modernized and a new cellar was built in place of the former kitchen garden.
The Crémant sparkling wines of Bourgogne received their own official classification of origin in 1975, when Gérard Vitteaut was the youngest producer of the founding team of the appellation. When the wine style was finally officially recognized, Gérard and Danielle decided to plant vineyards intended for the production of sparkling wines, just as grapes were growing in vineyards without a more precise plan. Starting in 2004, the couple's daughter Agnès, who studied law and oenology, joined her parents in running the farm's operations. Over the past twenty years, several nurseries on the farm have been replanted and now the nurseries cover approximately 22 hectares in the Côte Chalonnaise, Hautes-Côtes de Beaune and Maranges regions. In 2009, in addition to the farm's own nurseries, an agreement was made for 13 hectares of nurseries, which the farm manages without owning the land.
All Chardonnay, Aligoté and Pinot Noir grapes used for sparkling wines are picked by hand and compressed pneumatically. The wines are allowed to age in temperature-controlled steel tanks, which preserves the natural aroma of the grapes. After malolactic fermentation, the wines mature in tanks on lees over the winter before being blended and bottled for a second fermentation. All the estate's wines are allowed to mature in the bottle for at least 12 months before recorking.
The farm's total annual production is around 450,000 bottles.
https://www.vitteaut-alberti.fr/en/
Come and join us in creating a better wine culture
We at Viinitie believe that Finland is ready for a better wine culture. People are thirsty for quality, responsibility and stories in more and more glasses. That's why we want to be even more torchbearers of this cultural change and make better wines available to everyone.
Join the Viinitie Grand Crew community and you are involved in making a better wine culture.
Powered by Shopify © 2023, Viinitie Oy