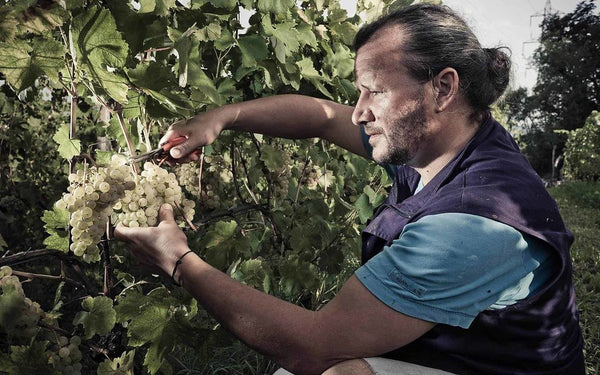 Vina Čotar
Despite its modest area covered by vines, Slovenia has made an impression in recent years with its extremely high-quality wines. One of the most interesting small farms in Slovenia is Vina Čotar, located right next to the border between Italy and Slovenia. The father and son duo Branko and Vasja Čotar produce elegant and complex wines in quite exceptional soil on the Krasi plateau, which is part of the Primorsk wine region. Covering 7.5 hectares, the orchards mainly cultivate native varieties such as Terani and Malvazija, which have been cultivated in the area for centuries. The farm also grows smaller amounts of Sauvignon Blanc, Cabernet Sauvignon, Merlot and Syrah.
The Čotar winery offers a wide view of the Gulf of Trieste, which washes both the coasts of Italy and Slovenia. The strong Bora wind and the proximity of the Adriatic Sea cool the dry and sunny atmosphere, creating favorable conditions for wine growing.
The Krasi region is perhaps more well-known in geological circles than in wine circles due to its special soil. The surface soil of the plateau is highly iron-rich Terra Rossa (red soil type found in Mediterranean climate regions), which has been formed by weathered limestone. Beneath it, a solid limestone formation is revealed, consisting of fossilized remains of marine life. Cultivation in the area is very challenging, as the bedrock must first be broken into parts, after which the topsoil is spread over the bedrock again.
The Čotars nurture their vines, which produce pure and intense grapes, using organic methods. The practices that respect the environment also extend to working in the cellar - the wines ferment spontaneously with wild yeasts, no sulfur or enzymes are added to them, and they are also not clarified or filtered. The cellar built into the rock wall is designed in such a way that the grape juice moves with the help of gravity. The wines are also matured in the same vessels where their alcoholic fermentation takes place. White wines mature for at least 2 years, and red wines for an average of 4-5 years.
Čotar's production is a perfect example of the maturation potential of sulfite-free wines, and the wines develop for up to 20 years. On the other hand, why wait when they are already young and perfectly balanced and ready to be enjoyed.
https://cotar.si/en/
Come and join us in creating a better wine culture
We at Viinitie believe that Finland is ready for a better wine culture. People are thirsty for quality, responsibility and stories in more and more glasses. That's why we want to be even more torchbearers of this cultural change and make better wines available to everyone.
Join the Viinitie Grand Crew community and you are involved in making a better wine culture.
Powered by Shopify © 2023, Viinitie Oy