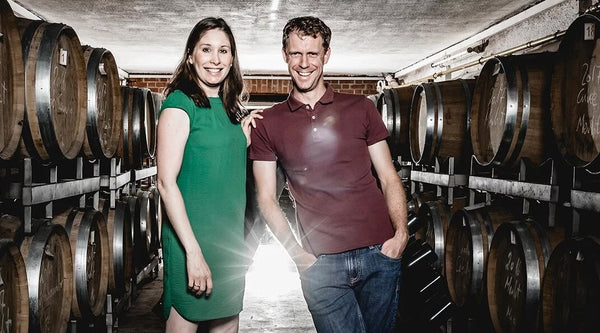 Strauch Sektmanufaktur
Strauch Sektmanufaktur is a family farm in Michelsberg, Rheinhessen, Germany, focusing on the production of sparkling wines made using the traditional method. Continuing her parents' legacy, Isabel Strauch-Weißbach took over the family winery known as Weingut & Sektkellerei Dalbergerhof Strauch together with her husband Tim in 2011. While Isabel, who graduated from Geisenheim, is responsible for sales, marketing and events, Tim, who initially studied beer, works with his team in the nurseries and in the cellar.
The farm has 25 hectares of vineyards in production, all of which are certified for organic production - as the only German sparkling wine producer! The orchards cultivate not only the typical champagne grapes Chardonnay, Meunier and Pinot Noir, but also the more common Pinot Blanc, Riesling, Silvaner, Gewürztraminer and Siegerrebe. All the farm's grapes are selected and picked by hand. The juice from the first pressing is used for sparkling wines and the juice from the second pressing for grape stills, which have been produced since 1995 in the distillery established next to the winery. The wines mature on the lees for 10-40 months, depending on the wine. Large bottle sizes are danced by hand and all the estate's wines are made dry. The farm's energy needs are met with the help of its own solar panels, and the farm's production equipment is very modern, enabling the production of precise wines by hand without manipulations. All wines are also vegan-friendly.
The farm also produces non-alcoholic sparkling wines, the production of which follows exactly the same principles as when making sparkling wines. The alcohol in the base wine is removed by vacuum distillation, and the aromas that evaporate during the distillation are returned to the final wine, as a result of which it retains its natural aroma. The wines are bottled under a pressure of 6 atmospheres, making them completely comparable to sparkling wines. In 2019, the German Winebusiness magazine chose Blanc Puri as the best German non-alcoholic sparkling wine.
Although Strauch Sektmanufaktur is only ten years old, Gault & Millau already noticed it with the 2014 Discovery of the Year mention. We remain curious and waiting to see what this power duo can achieve.
The farm's annual production is around 50,000 bottles.
https://strauchsektmanufaktur.de/