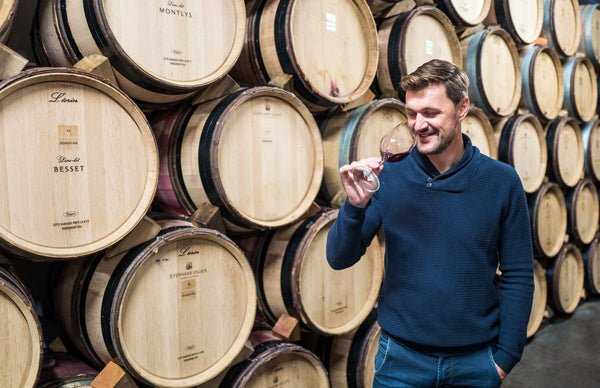 Stéphane Ogier
The Ogier name has been known in the village of Ampuis in the Rhône valley for seven generations. The passion for wine flows strongly in the veins of the family members, because when he was only 6 years old, the current owner and winemaker Stéphane decided that he too would become a winemaker in the footsteps of his father Michel. Until 1982, Michel had sold his grapes to other producers in the region, such as Chapoutier and Guigal, but eventually started making wines under his own name. After graduating from the University of Beaune in 1997, Stéphane returned to his family farm and has continued to build the farm's reputation ever since. The very next year, the wines were sold under the name of Michel and Stéphane, and nowadays, since 2014, the estate has carried Stéphane's name. There is certainly no shortage of appreciation for the farm: many international media talk about the 45-year-old Stéphane as the "new Chave".
Stéphane's studies in Burgundy left a lasting impression on his winemaking philosophy. In contrast to the big and robust wines of many other producers, Stéphane's wines taste sensitivity and elegance. The orchard work is respectful of the grapes and the soil, so plowing on the steep slate orchards is done by hand and with the help of horses. Yields are kept low and Stéphane has also replanted several family gardens. Although this has reduced the amount of grape harvest for a few years, the choices made maximize the potential of the orchards as producers of quality grapes in the future.
The farm's own and leased orchards are concentrated near the Côte-Rôtie, where the climate is cooler than the rest of the Rhône and the grapes ripen late. In addition to the village's orchard wines, Condrieu and Saint-Joseph are also produced. Regional Côtes du Rhône wines are also produced. In the cellar, Stéphane is not bound by formulas and does not bend under the ballast of history. Several small steel tanks are used, which enable plot-specific vinification. Oak is used in maturation to give the wine oxygen. Whereas in the past the grapes were not destemmed at all, today Stéphane removes the stems from around 80% of his harvest. Syrah and Viognier are traditionally used together.
The farm's annual production is around 300,000 bottles.