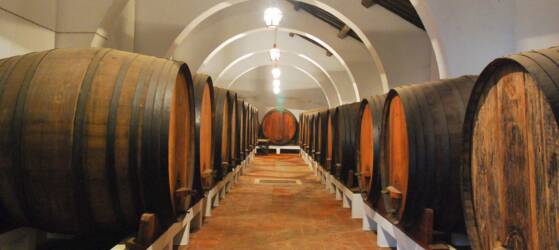 Sovibor
Located in the Alentejo of southern Portugal, Borba is the smallest village in the region, known mainly for its marble production. Soviborin also operates in the village of Borba - Sociedade de Vinhos de Borban - a family farm that has been producing wines under DOC Borban since 1968. The space started when two small producers joined forces. The family's production facilities include, among other things, a unique 200-year-old building, which is apt to support the family's ideology of traditional about the style of winemaking, which includes traditional pressing, marble lagares vessels, as well as clay amphorae, cement tanks and old wooden vessels used to age the wines.
Sovibor's family business manages 170 hectares of vineyards, a significant part of which has very old vines. As a rule, the grapes grown are native varieties of Alentejo, which over the decades have adapted best to the region's microclimate. In the nurseries, you can find red varieties such as Castelão, Trincadeira, Aragonez and Alicante Bousche, and white varieties Roupeiro, Rabo de Ovelha and Tamarez.

Fazer as Onze, which can be found in the selections of Viinitie, refers to an ancient ritual, where at 11 o'clock in the morning the locals of Borba gathered in small taverns for a snack and a glass of wine. The wines of Mamoré de Borba, on the other hand, are obtained from old unirrigated orchards, which grow in orchards located at an altitude of 350 meters with poor soil.
https://www.sovibor.com/en/