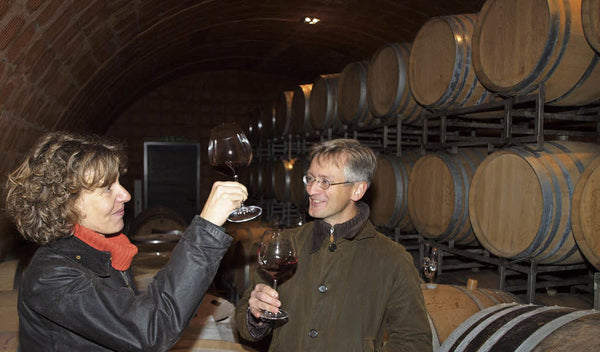 Shelter Winery
Behind Shelter Winery is the winemaking couple Hans-Bert Espe and Silke Wolf. They met while studying winemaking at the University of Geisenheim. Although neither of them had a background in wine, they decided to establish their own winery in 2003. At first, the farm was managed on the side of other jobs, but later making their own wines became a full-time job for the couple. The farm got its name from the bunker built by the Canadian Air Force and which served as an ammunition depot, where the farm's first wines were made.
Hans-Bert and Silke shelters are located in the Baden region in the villages of Kenzingen and Malterdingen. While the Kaiserstuhl region of Baden is volcanic, the soil to the north consists of loess and limestone. Shelter has a total of 5 hectares of shelters. 4.6 ha of the orchards are dedicated to Pinot Noir and the rest to Chardonnay. The couple works very actively in the nurseries and spares no time or effort to make sure that the 40-year-old creepers are doing as well as possible. Thanks to the old vines and intensive green harvest, the harvests remain very moderate. The grapes are collected by hand and the winemaking is guided by a careful and tender touch.
In 2010, Shelter Winery expanded with a new cellar, which provided more space and better production facilities. This also made it possible to carry out cold maceration before alcoholic fermentation. The new cellar has space for 140 barrels and nine wooden fermentation vessels. The alcoholic fermentation of the wines takes place quickly and the subsequent maceration is short, so that the wines retain their inherent sensitivity. The use of oak in aging wines is also moderate.
The selections of Viinitie include Spätburgunders made from grapes from the house's own orchards, as well as Lovely Lilly Pinot Noir, launched in 2012, which was made in collaboration with a few other producers in the area and which is a tribute to the couple's late dog.
http://www.shelterwinery.de/

Tule mukaan luomaan parempaa viinikulttuuria
Me Viinitiellä uskomme, että Suomi on valmis parempaan viini- kulttuuriin. Ihmiset janoavat laatua, vastuullisuutta ja tarinoita yhä useammassa lasissa. Siksi haluamme olla entistäkin enemmän tämän kulttuurimuutoksen soihdunkantajia ja tuoda paremmat viinit kaikkien saataville.
Liity Viinitien Grand Crew -yhteisöön ja olet mukana tekemässä parempaa viinikulttuuria.
Powered by Shopify © 2023, Viinitie Oy