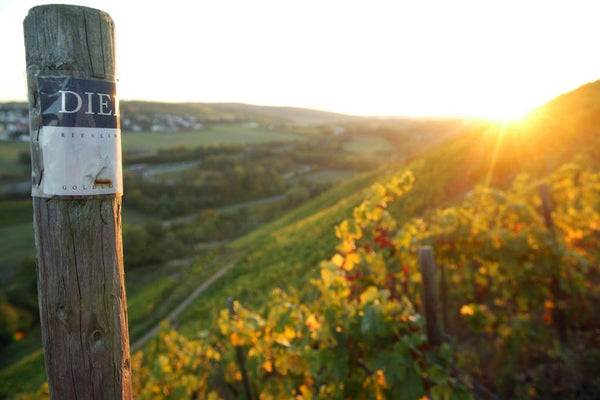 Schlossgut Diel
The history of Schlossgut Diel dates back to 1802, when the Diel family bought the historic Burg Layen castle built in the 13th century and spared from the Napoleonic conquests. Armin and Monika Diel's winemaking daughter Caroline, who studied in Geisenheim, is currently in charge of the operation of the farm. Carolinen has sought her inspiration by working at wineries around the world. Her husband Sylvain and her brother Victor help sell the wines and make the estate known. Schlossgut Diel is part of the VDP organization of German quality producers.
Diel owns a large part of Nahe's three best south-facing vineyards, Goldloch, Burgberg and Pittermännchen. The special quality of these paddocks was documented for the first time already in 1901. The paddocks are largely managed with natural methods, as the steep slopes allow.
The core of Diel's winemaking is to produce individual estate wines in several different Prädikat categories. The grapes are picked by hand from the orchards and carefully selected. The wines age spontaneously either in steel or cement tanks, or in big old 600- and 1200-liter oak vessels. Although Riesling is the farm's number one grape, varieties belonging to the Pinot family are also cultivated on the farms.
https://diel.eu/en/
Come and join us in creating a better wine culture
We at Viinitie believe that Finland is ready for a better wine culture. People are thirsty for quality, responsibility and stories in more and more glasses. That's why we want to be even more torchbearers of this cultural change and make better wines available to everyone.
Join the Viinitie Grand Crew community and you are involved in making a better wine culture.
Powered by Shopify © 2023, Viinitie Oy