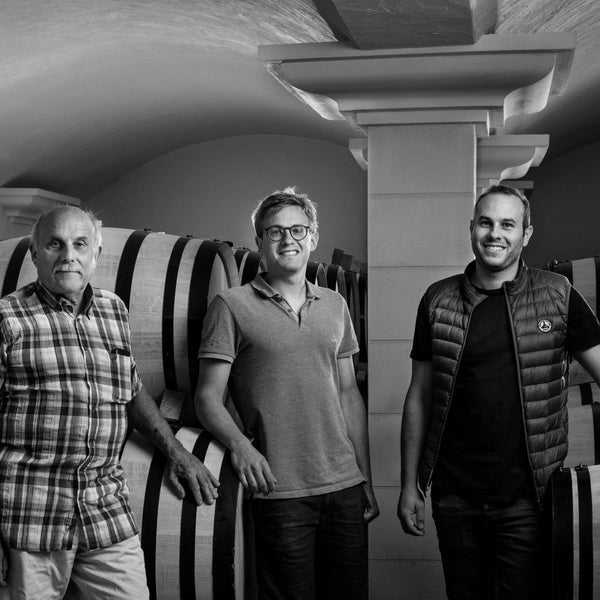 Roland Lavantureux
The first wines produced in the 1960s from the vineyards of the Lavantureux family's village of Lignorelles were appropriately enjoyed among friends and family. After getting their share of the wines, Marine and Gervais Lavantureux started selling some of the farm's wines in classic 132-liter feuillettes barrels to the Auxerre and Paris regions. However, we had to wait until 1979, until their son Roland, who completed his studies in Beaune, bottled the farm's first wines and gave them his own name. Together with his wife Brigitte, Roland quadrupled the size of his parents' 5-hectare farm for the shelter, and with the bottle trade began to expand his market to the rest of France and beyond the country's borders.
In 2010, the brothers Arnaud and David joined the operation of the farm and within a couple of years they expanded the cellars of the farm to enable future growth projects. Arnaud took over the farm's nurseries and cellar, and David took over marketing and sales. Together, the brothers took over the historical regions of their mother's parents in Bourgogne Epineul and Bourgogne Tonnerre, and the wines from these more than 50-year-old estates were released for the first time in 2020. When the opportunity arose, the brothers also acquired more plots for themselves, the most significant success of which is the Premier Cru estate in Vau de Vey the increase in dedicated rows of vines. Now there are 25 hectares of nurseries.
The farm wants to produce Chablis wines that are intense, rich and lively. In the nurseries, we work to preserve their biodiversity, and especially the vitality of vines over 60 years old is taken care of in a way that places as little burden on the environment as possible. The spaces between the rows of vines are plowed so that the soil gets air and the roots of the vines have to dig deep into the limestone subsoil in search of water and minerals. In 2020, the conversion to organic viticulture began. The grapes from different plots are vinified separately, and depending on the wine and vintage, both steel tanks and oak barrels are used in the cellars. The brothers produce several individual wines from different plots, and thus each wine has its own story to tell.
The farm's annual production is around 150,000 bottles.
https://chablis-lavantureux.fr/en/