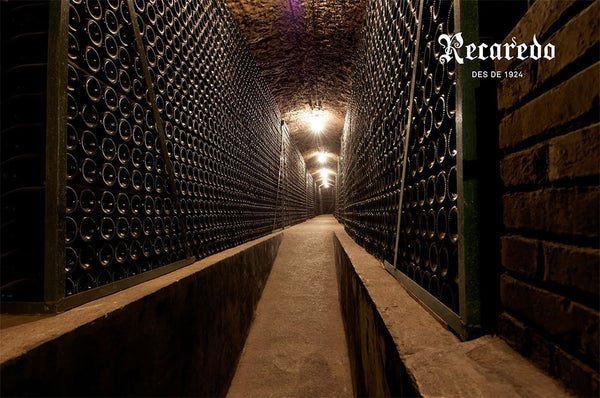 Recaredo
The name Recaredo is probably familiar to everyone who has ever tasted quality Spanish sparkling wines. Founded in 1924, the farm's foothold in the Penedès sparkling wine category is as solid as a rock, and so is the vision and philosophy of the current owner of the family farm, Ton Mata, on wines that are organic and truly reflect their origin. The farm's low-yielding vines produce concentrated grapes, the wines are not masked with manipulations or dosage, and each wine is also allowed to bring out the conditions of its vintage.
Recaredo is known as a pioneer of completely dry, partially matured in oak barrels, long-lived sparkling wines based on Xarel. As a pioneer, in 2010 the estate also became the first biodynamically certified winery in Penedès. 70% of Xarel-lo grows in Recaredo nurseries, and no irrigation systems are used. The amount of other vegetation growing between the rows of vines is regulated according to the annual rainfall, so that the roots of the vines get just the right amount of moisture. Recaredo, together with a few other quality sparkling wine producers, founded Corpinnat in 2017, so all the grapes used to make the estate's sparkling wines come from the heart of Penedès, the region designated as Corpinnat. All the grapes used for the sparkling wines are from the farm's own orchards, which cover 85 hectares.
Exceptionally special methods are followed in the farm's cellar, such as the maturation of sparkling wines under a natural cork, as well as the handmade dancing of the bottles and recorking without freezing the bottle neck. Anyone who has visited the cellar will surely also remember its magical and dark atmosphere, and for emotional reasons the use of cameras is not allowed in the space. All the farm's wines are fermented with natural yeast strains and the amount of sulfur dioxide in bottling is kept to a minimum.
The farm's founder, Father of Josep Mata Capellades The space named after Recaredo Mata Figueres was joined in 2010 by Celler Credo, which focuses on still wines, and whose name playfully consists of the letters Recaredo. Celler Credo's wines are made from grapes from their own orchards covering 5 hectares, in addition to which grapes are bought from 18 hectares of other farmers who tend their orchards organically. Even though these orchards are managed with biodynamic methods, for now Celler Credo's wines are "only" certified organic. The idea to produce still wines arose from the desire to sell some wine to those who inquired, when all sparkling wines were still aging in the cellar for at least 30 months. Like Recaredo, Celler Credo's wines are carefully made over time by hand.
Recaredo's total annual production is about 290,000 bottles and Celler Credo's total annual production is about 135,000 bottles.
https://www.recaredo.com/en/