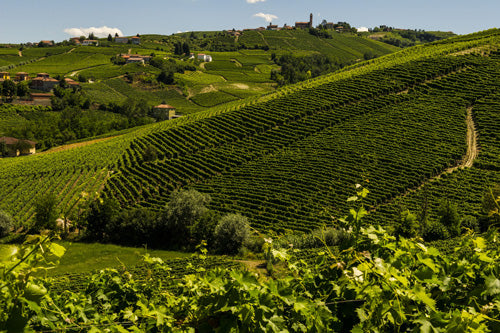 Paolo Saracco
Paolo Saracco's family farm is located in Langhe, Piedmont, in the village of Castiglione Tinella. The winery that produces Moscato d'Asti is only about 25 kilometers from the famous Alba and Asti estates. Saracco's name has almost a cult reputation and the producer's high-quality Moscato has garnered praise in the world's most prestigious wine publications.
Having reached the venerable age of over one hundred years, Saracco was founded in 1900. For the first 88 years, Saracco mainly focused on growing grapes and selling them on. In 1988, Paolo Saracco, who studied oenology, decided to change the farm's direction from a mere grape grower to a winemaker. He started making his own wine, and Saracco's own Moscato d'Asti, bearing Paolo's name, was born.
Saracco has 50 hectares of vineyards around the villages of Castiglione Tinella, Santo Stefano Belbo, Castagnole Lanze and Calosso. The soil of the plots is layered with sand, loess, clay and limestone. The estate focuses strongly on the production of Moscato Bianco, which produces around 650,000 bottles per year. Chardonnay, Riesling and Pinot Noir are also grown on the farm. However, the production volume of these remains below 10,000 bottles per year.
The character of Saracco Moscato d'Asti and the origin behind it are expressed quite well in Paolo's description: "Saracco Moscato is as sweet and charming as the hills where it is born and grown; as vivid and precise as the mountains spread out on the horizons that protect the landscape; refreshing and effervescent like the wind rushing from the Alps to the hills. When served cold, the delicate and durable Moscato with bubbles is like a fresh shower in summer weather".
https://paolosaracco.it/en/
Tule mukaan luomaan parempaa viinikulttuuria
Me Viinitiellä uskomme, että Suomi on valmis parempaan viini- kulttuuriin. Ihmiset janoavat laatua, vastuullisuutta ja tarinoita yhä useammassa lasissa. Siksi haluamme olla entistäkin enemmän tämän kulttuurimuutoksen soihdunkantajia ja tuoda paremmat viinit kaikkien saataville.
Liity Viinitien Grand Crew -yhteisöön ja olet mukana tekemässä parempaa viinikulttuuria.
Powered by Shopify © 2023, Viinitie Oy