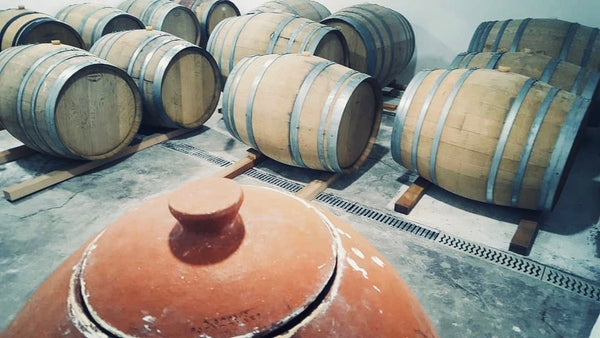 Ori Marani
Ori Marani is a new, but even more innovative and dynamic name among Georgian wine producers. Bastien Warskotte from France founded the winery with his Georgian wife Nino in 2017 in the village of Igoet, located in the Shida Kartli region. Even though the estate itself is very young, it is backed by Bastien's knowledge of wine from the regions of Champagne and Burgundy, as well as Georgia's 8,000-year-old wine history. The farm's name means two wine farms, referring to the winemaking history of these two wine countries, France and Georgia, and their influence on world wine production. All of the farm's wines are made either in traditional Georgian kvevri earthenware vessels or in old French oak barrels, which give each wine its own unique identity.
Because the farm is so young, their own orchards are not yet producing grapes. The grapes are bought from small family farmers, whose principle is to take care of even the smallest requirements and needs of the vines. Although the grapes are not certified, mainly all the grapes are grown using organic methods. The grapes are collected from the regions of Imeret, Shida Kartli and Kakheti, in the eastern and central parts of Georgia. The grapes from Imeret grow on limestone soil in the village of Rupot. In Shida Kartli, where Ori Maran's winery is also located, the climate is cool and the grapes grow in Lamiskana and the town of Aten, located at an altitude of 700 meters, on limestone and clay soils. The cool climate enables the grapes to have a long growing season, during which their natural acidity is preserved, allowing the freshness of the grapes and the final wines. The grapes of the Kakheti region are obtained from Chumlak village from the orchards of Nino's family member, which are about 35 years old. The soil of the nurseries is a mixture of clay and sand and they grow at an altitude of 350 meters.
All the grapes used by the farm are picked by hand and allowed to ferment with the help of their natural yeast strain, so that the terroir of the grapes is expressed in the wines as well as possible. Both before fermentation and during bottling, sulfur dioxide is minimally used. The wines are allowed to mature reductively for a long time on the lees, whereby autolysis creates a refined texture for the wines and increases the versatility of their aromas. All wines are bottled without clarification and filtering. The wine labels were painted by Nino's niece Nita.
http://www.orimarani.com/
Tule mukaan luomaan parempaa viinikulttuuria
Me Viinitiellä uskomme, että Suomi on valmis parempaan viini- kulttuuriin. Ihmiset janoavat laatua, vastuullisuutta ja tarinoita yhä useammassa lasissa. Siksi haluamme olla entistäkin enemmän tämän kulttuurimuutoksen soihdunkantajia ja tuoda paremmat viinit kaikkien saataville.
Liity Viinitien Grand Crew -yhteisöön ja olet mukana tekemässä parempaa viinikulttuuria.
Powered by Shopify © 2023, Viinitie Oy