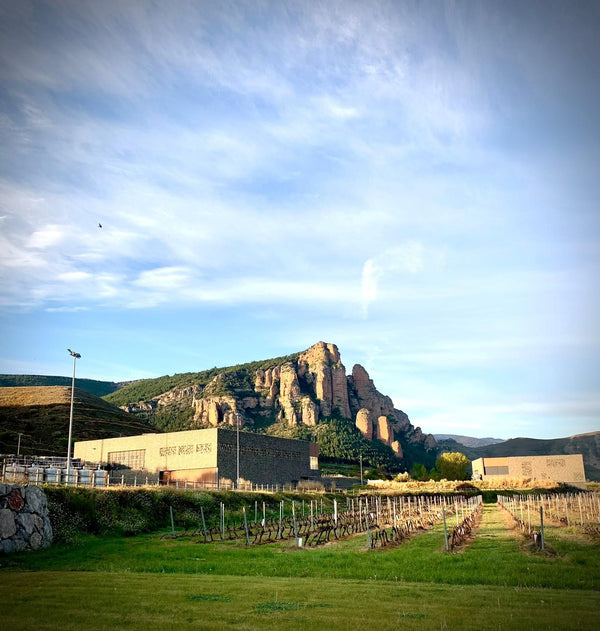 Nivarius
100-year-old Viura vines and wine from an altitude of 840 meters? If this doesn't make a wine lover perk up, nothing will.
The Nivarius winery gets its name from a natural spring in Latin, where the snow that fell in the winter is stored as water available all year round. The vines grow next to this spring, which can feel the fresh Atlantic wind around them day after day, and this freshness can also be tasted in the white wines produced by Nivarius. A farm focusing on white wines is a rarity and the first in the Rioja region, but the Nivarius farm, part of the Palacios Vinos de Finca group, has the ambitious goal of making wine lovers understand how refined and long-lived white wines in Rioja can be made from local grape varieties in the region.
Nivarius has 120 hectares of paddocks under cultivation, all of which are located at extremely high altitudes and many of which face north. In addition to Viura, Garnacha Blanca and Tempranillo Blanco, the farm wanted to save the region's native variety Maturana Blanca from extinction and has invested in cultivating the grape to raise it back to the value it deserves. Today, only 40 hectares of this Savagnini-related variety can be found in Rioja, but the grapes produced by the small bunches on the sandy soil and the wines made from them are particularly complex.
The core idea of the whole Palacios Vinos de Finca is to find exceptional regions where unique wines that reflect the region can be produced. By enriching and respecting the biodiversity of the orchards, and rejecting synthetic pesticides with the farm's minimal intervention principles, the wines made from grapes really tell the story of their birthplace. The farm's first new nurseries were planted in 2010, but the farm also managed to buy old, 80-100-year-old Viura nurseries from long-term farmers in the area. By carefully examining the soil in the nurseries, Nivarius has managed to take care of the vines in the way they require, and the well-being of the vines is immediately visible to visitors to the nurseries. In the soil research process, Nivarius has been assisted by the world's most famous soil specialist, the Chilean Pedro Parra.
The respect for grapes is also strongly visible in the farm's cellar. Whole bunches of grapes are pressed without removing the stems, the wines are made with the help of the natural yeast strain in the grapes and in the cellar, and as a rule, the wines mature in steel and cement tanks to preserve their own natural aroma world. The farm's first wines were released in 2012 and currently there are a total of four wines in the selections.
The farm's annual production is around 600,000 bottles.
https://palaciosvinosdefinca.com/