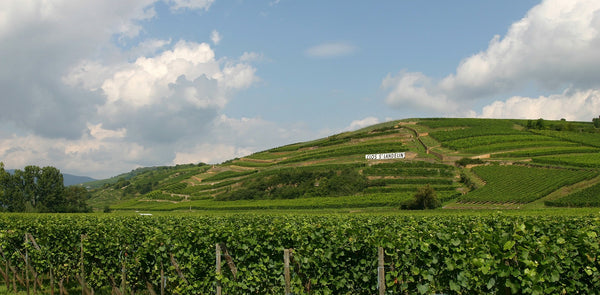 I died
The village of Rouffach is located 15 kilometers southwest of the city of Colmar in the Haut-Rhin region. Michel Muré moved in next door Westhalten village in 1650 and became a wine grower, planting his family's first vines. Three hundred years later, in 1935, Michel's descendant Alfred Muré expanded the holdings by buying the 12-hectare Clos Saint Landelin farm in the village of Rouffach, which had once belonged to the village's monastery. Alfred replanted these sun-kissed and rain-sheltered terraces, laying the foundation for Muré's reputation as one of Alsace's most historic monopoly vineyard owners and wine producers. In the same year, the brothers Oscar and Armand decided to move the family's wine production facilities from Westhalten to Rouffach, the old Merovingian hometown of Rouffach, in order to be closer to the vineyards. The farm's driving responsibility passed to René Muré in the same year 1976, when his daughter Véronique was also born. Véronique studied agriculture in Montpellier and her brother, who is four years younger, oenology in Beaujolais, and today, together with their father René, they manage the farm's 28 hectares of orchards, representing the 12th generation of the Muré family.
For more than twenty years, the family's nurseries have been taken care of using natural methods. The plowing of the land and the density of 10,000 vines per hectare force the rhizomes of the vines to search deep into the different layers of the earth, where they find the necessary minerals to strengthen their vitality. Since 2013, purely biodynamic methods have been used in the nurseries, and plant extracts are used in pest control, which make the vines even stronger. The yields produced by the orchards are only around 30-45 hl/ha, so the resulting wines are very intense and expressive. The limestone and sandstone soil of the orchards allows for the successful cultivation of all the classic varieties of Alsace.
During hand-harvesting, the grapes are already sorted in the orchards and brought to the winery in small 15 kg boxes, taking care not to crush the bunches. The grapes are pressed whole without removing the stems and crushing them. The fermentation of wines in the cellar starts spontaneously and sulfur dioxide is used only when necessary. Muré wines are divided into the classic varietal wines of Côte de Rouffach and the family's Signature series. Clos Saint Landelin, which belongs to Vorburg's Grand Cru vineyard, produces amazing varietal wines of the estate's grand cru level, and in some years the vineyard also produces infinitely long-lived sweet wines from late-picked and noble mold-infected grapes. Muré also produces typical Crémants of the region, made with traditional methods.
https://www.mure.vin/en/