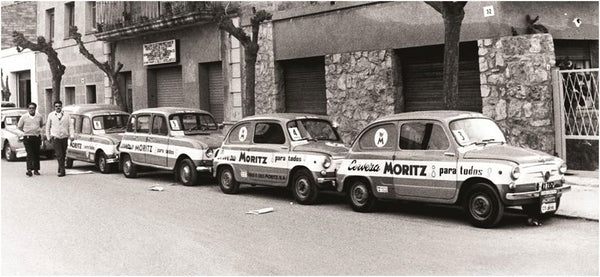 Moritz
The Catalan brewery Moritz bears the name of its founder Louis Moritz Trautmann. Trautmann, who moved to Barcelona in 1851 from Pfaffenhofen, Alsace, started brewing his own beer in 1856. Three years later, he acquired his first commercial brewery, but was forced to move to larger premises already in 1864. These premises served Moritz for more than a century, until the new premises were completed in 1966.

After Louis Moritz Trautmann died in 1920, the operation of the brewery was taken over by his descendants. These had to hand over the operation of the brewery to common use during the Spanish Civil War in 1936-1939. Shortly after the war, the family regained control of the brewery and thanks to the steady increase in demand for beer, the company was successful. A complete turnaround took place in the 1970s, when the energy crisis drove the company into bankruptcy.
Moritz's descendants gathered their forces and successfully revived the Moritz brand in 2004. The beer is currently brewed under license at the La Zaragozana brewery. The company's premises, a beer museum, a small demonstration brewery and a demo bar can be found in the brewery's connection.
https://moritz.com/
Tule mukaan luomaan parempaa viinikulttuuria
Me Viinitiellä uskomme, että Suomi on valmis parempaan viini- kulttuuriin. Ihmiset janoavat laatua, vastuullisuutta ja tarinoita yhä useammassa lasissa. Siksi haluamme olla entistäkin enemmän tämän kulttuurimuutoksen soihdunkantajia ja tuoda paremmat viinit kaikkien saataville.
Liity Viinitien Grand Crew -yhteisöön ja olet mukana tekemässä parempaa viinikulttuuria.
Powered by Shopify © 2023, Viinitie Oy