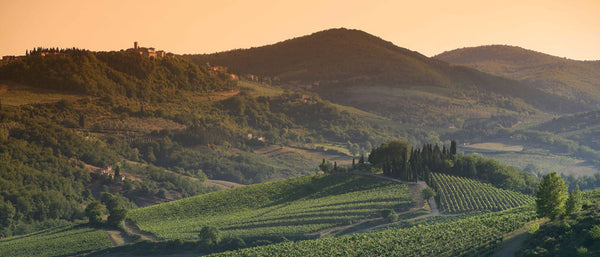 Montevertine
The Montevertine estate is located in the village of Radda in the Chianti hills, 425 meters above sea level. In 1967, steel product manufacturer Sergio Manetti originally bought Montevertine as his holiday home. The following year, Sergio planted two hectares of vineyards on his farm and built a small cellar to be able to produce some wine for his friends and customers. Sergio produced his first wine in 1971 and decided to present it at the taxable wine fair at Vinitaly. The wine gained immense popularity right away, which is why Sergio decided to give up his previous career and focus all his energy exclusively on winemaking. He planted more vineyards and built a new wine cellar. Since then, the development of the space has never stopped. Today, there are about 18 hectares of nurseries, which are divided into 9 different plots. The oldest vineyard still produces grapes from which the house's top wine, Le Pergole Torte, is created.
In November 2000, after Sergio Manetti's death, his son Martino Manetti took over the responsibility of taking care of the farm's nurseries. Martino was assisted by Montevertine-born cellar master Bruno Bini, who knew the area and its soil inside out, as well as Giulio Gambelli, who worked as a farm consultant from the first years, who is greatly thanked for all his help and experience in creating the Montevertine name. Today, Martino is assisted by oenologist Paolo Salvi, and together the gentlemen continue in the footsteps of their predecessors, following and implementing their philosophy.
In the nurseries, 90% Sangiovese grows, the remaining 10% of the plantings consist of Colorino and Canaiolo. The house's principle is to use only the traditional varieties of the region, and not the international grapes that many other Tuscan houses cultivate today. In 1981, Sergio decided to give up the Chianti Classico designation of origin, because according to the rules of the region white varieties had to be used in the production of Chianti. Sergio did not want to include Trebbiano in his wines, but decided to turn his back on the region's legislation, starting to produce his wines as regional wines instead of DOCG.
In the newer nurseries planted after 1997, there are 5000 vines per hectare and they grow in a cordon form, while in the older nurseries the vines grow in a guyot form with a planting density of 3200 per hectare. Since 2009, the nurseries have been managed using ecological methods. All the grapes on the farm are picked by hand and the wines age slowly and for a long time in large cement tanks. The cellar works with the help of gravity, which enables gentle handling of the wine.
https://www.montevertine.it/the-winery/?lang=en