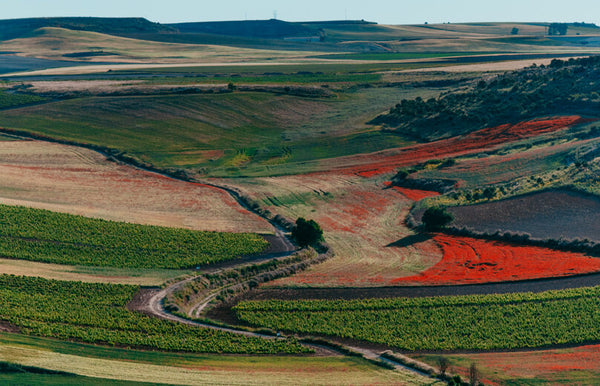 Monteabellón
The Garcia family founded Bodegas Monteabellón in 2000 in the small town of Nava de Roa, in the heart of Ribera del Duero. The continental climate of the area is somewhat influenced by the Atlantic winds, and due to the high altitude vineyards, the temperature variation during the day produces exceptionally fresh and intense wines. All of the winery's wines are obtained from grapes from its own orchards. Today, there are 140 hectares of animal shelters around the town of Nava de Roa.
The Monteabellón farm is very environmentally conscious in what it does. No insecticides or weed killers are used in the nurseries, but we trust nature's own ability to act when problems arise. As a result, the farm's carbon footprint is reduced and the vineyards are more favorable as a habitat for the necessary bees. The orchards are planted throughout with vines of the Tinta del País or Tempranillo grape, although a few occasional Merlot vines are mixed in among them. The location of the vineyards at an altitude of 760-950 meters and the meager amount of annual rain received by the sandy and gravelly soil force the vines to work hard to produce high-quality and concentrated grapes. The lime content of the soil is felt in the strong backbone of the wines.
The farm uses the latest technology in wine production. In the cellars, the wines mature in both French and American oak barrels. Today, the winery produces wines not only from Ribera del Duero, but also from the Rueda and Rioja regions, although Viinitie's selections currently include Ribera del Duero 100% Tempranillo Malasenda Roble from the farm's production.
https://www.monteabellon.com/en/