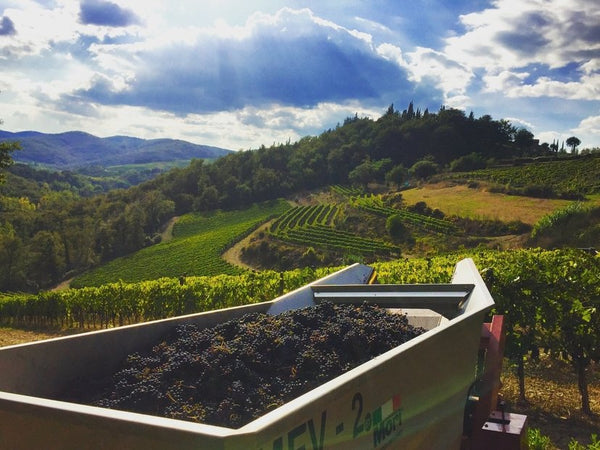 Monte Bernardi
Michael Schmelzer is a true cosmopolitan. Born in Italy to a German father and an American mother, the gentleman has spent long periods of his life in France, Germany, the United States and Australia. While living in France, Michael taught himself the profession of a chef, which led him to work in Michelin-starred restaurants. In Paris, Michael also attended a wine course and made a few trips to the wine regions of France. After being bitten by the wine bug, Michael studied viticulture and enology while working in several Australian wine regions. When Michael's parents started thinking about their retirement, his sister suggested that they all move to Italy, where Michael and his sister, who studied wine business, could start a joint wine project. After visiting dozens of farms, they finally found the Monte Bernardi farm in Panzano, in the heart of Tuscany. Founded by the Buoninsegni family in 1085, the estate offered the Schmelzers exactly what they were looking for.
The name of Monte Bernardi bears the name of the husband of the daughter of Buoninsegni's family who married at the time, as the farm was separated from a larger entity as a wedding gift to a newly married couple. The farm is located in the highest area of ​​Chianti Classico, where the wines have significantly more freshness than in the rest of the province. The area's microclimate is almost perfect. The south-facing slope, which starts from the wind-protecting forest and ends at the river bed, offers cooling on hot summer days and an optimal amount of sunlight by intensifying the first rays of the spring sun.
The Schmelzers moved to the area in 2002 and produced their first wine the very next year. From the beginning, the idea was to produce wines using traditional methods, so that the typical features of Chianti Classico would best emerge. Michael began cultivating his orchards with biodynamic methods, focusing only on using native varieties in his DOC Chianti Classico wines, and maturing his wines in large French, Slavonian and Austrian oak barrels instead of small barriques. Rhizomes were selected for the nurseries, which typically extend their roots deep into the ground. At the beginning, only 5 hectares of orchards were cultivated on Monte Bernardi, from which 15,000 bottles of wine were obtained. Today, there are roughly less than 25 hectares of nurseries. The wines are organically certified, but a biodynamic certificate is not applied for, because Michael does not want to pay separately for two certificates and does not want to earn 1% of all his sales.
In the cellar, Michael uses all the juice he squeezes, because otherwise some of the work done in the nurseries would go to waste. Spontaneously fermented wines are often matured under a layer of flor yeast and are never clarified or filtered.
The farm's annual production is around 75,000 bottles.
http://www.montebernardi.com/