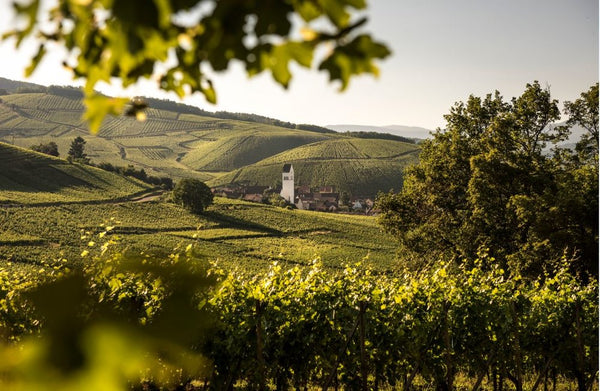 Meyer-Fonné
Meyer-Fonné is a family winery starting from Katzenthal in Alsace, whose background is influenced by the Meyer family of Swiss background. The Meyers produce high-quality and intensely aromatic white and sparkling wines from local grapes, Riesling, Pinot Blanc, Pinot Gris, Gewürztraminer and Muscat. Pinot Noir is also cultivated on 1.9 hectares.

The estate's wine plots cover an area of ​​19 hectares in the area of ​​seven villages, Katzenthal, Ammerschwihr, Ingersheim, Riquewihr, Kientzheim, Colmar and Bennwihr. Variability in the soil, topography and wind direction of the slopes gives Meyer-Fonné's different wines a distinctive character. For example, while the vines growing around the Grand Cru village of Katzenthal have adapted to granite and limestone soil and very steep slopes, the soil in the plots in Colmar is very poor in nutrients and water permeable and the slopes are relatively gentle.
The Meyers arrived in Alsace in 1732, and the winery is already running in the third generation. Since 1992, the farm has been managed by the grandson of the farm's founder, Felix Meyer. Felix has garnered praise not only for the naturalization of production and the modernization of the farm's production equipment, but above all for investing in Katzenthal's Grand Cru plots. With Felix, all the wines started to be bottled on the farm and they started to be sold in increasing quantities also outside the country's borders. With Felix, the farm's orchard holdings have also expanded to cover up to 5 Grand Cru orchards. Traditions have not been forgotten at Meyer-Fonné - the farm prefers lees maturation in old, flat foudre oak vessels, which were once very common in Alsace.
At Meyer-Fonné, the emphasis is on terroir-orientation and highlighting the characteristics of the growing conditions. The know-how accumulated over the years has developed Meyers into excellent blenders with the ability to combine wines from different plots in such a way that balanced, multidimensional cuves are created. The farm's orchards are being converted to organic production, and from 2021 the wines will have an organic certificate.
The farm's annual production is around 110,000 bottles.
https://www.meyer-fonne.com/en/