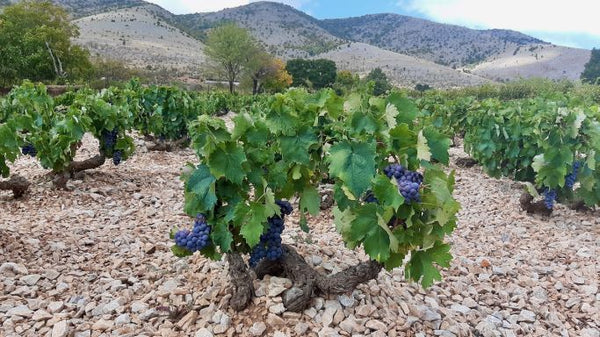 Magoutes
The hill town of Siatista in northwestern Greece has been home to vines since the 17th century. According to the books of the monastery of Siatista, the locals produced and traded their wines, along with other trade goods such as sheep's wool and beeswax, to both Venice and Constantinople. The city of Siatista also has a strong history influenced by the Ottomans. Most of the business in the town was once fur trading, but today only a few businesses remain in operation.
At the beginning of the 20th century, the Diamantis family planted Xinomavro and the rarer red varieties Moschomavro and Nigrikiotiko in the area. Over the decades, however, some of the orchards faded away, but some of the vines still produce grapes for the farm's wines. 1985 Konstantinos Diamantis and his family founded the Diamantis winery, the focus of which was to protect and save old local varieties. One of the varieties was Moschomavro, whose new cuttings were used to plant a 3-hectare nursery on slopes filled with clay and limestone at an altitude of 850 meters. Today, all Moschomavros growing in Greece go to Diamantis nurseries.
Diamantis produced its first blended wines in 2002, followed by varietal wines from Xinomavro and Moscomavro in 2011 and 2016. In April 2021, the first wines were released under the name Magoutes Vineyard. Wines are produced by Greek standards in a cool and dry continental climate at an altitude of 750-820 meters. As a result, the environment does not cause unnecessary stress to the vineyards, thanks to which the flora and fauna of the vineyards flourish. The orchards can therefore be managed with organic methods and the harvest quantities are limited to 1 kg of grapes per vine. The limestone soil itself is also poor, producing concentrated grapes. In total, the farm's nurseries cover an area of 22 hectares, but the hope is to save more abandoned nurseries and also plant new vines from the cuttings of historical vines.
Currently, a new wine house and cellars are being built in the middle of the paddocks. Thanks to the new facilities, the 500-liter oak barrels now used to mature the wines can be replaced with larger 2,500-liter Stockinger barrels, which allow the wines to breathe without introducing too many oak aromas. All wines ferment spontaneously without added yeasts, and neither enzymes nor clarifying agents are used in winemaking. The wines are sealed in bottles under a DIAM cap.
Magoutes is jointly run by Dimitrios Diamantis and George Papageorgiou, both born in Siatista. In the hearts of both gentlemen, there is a burning flame for their own region and the original Greek varieties, and this love can really be tasted in the farm's wines.
The farm's annual production is around 80,000 bottles.
https://www.magoutes.com/