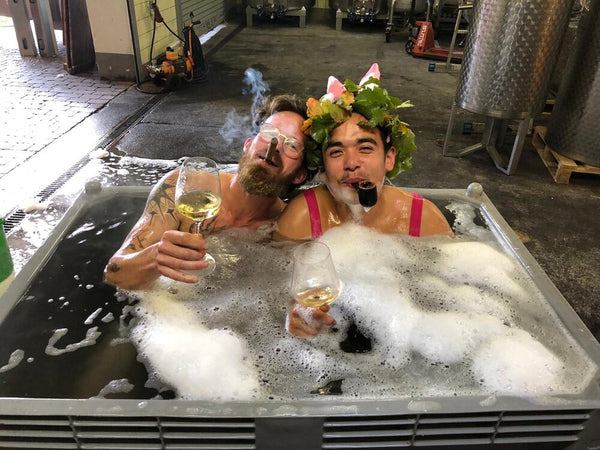 Lundén & Cie
Lundén & Cie is the beginning of the dream of Swedish Markus Lundén. Markus worked in the gastronomic circles of Sweden until he decided to start enology studies in Geisenheim, Rheingau, Germany in 2004. Along with going to school, he became an apprentice at Weingut Georg Breuer and over the years he became the winemaker of Yleni farm.

Lundén's own winery started in 2007 when he took over a few plots and started making small quantities of wine. Lundén's production is still small, only about 5,000 bottles a year. Markus produces wine from a few excellent vineyards. The plots located in the village of Rüdesheim are carefully selected, the best example of which is Berg Rottland, the village's steep first plot on the banks of the Rhein river. The abundant sunshine of Berg Rottland's microclimate and the light rays reflected from the river ripen the grapes to their optimum.
Lundén differs from other winemakers in the region by vinifying its wine separately in small batches, even though the grapes come from the same plot. He gets the best possible result by mixing the wines used in the right proportion. In its honest winemaking, Lundén combines the best aspects of both worlds - traditional techniques are supported by current wine knowledge.
http://www.lunden-cie.com/
Come and join us in creating a better wine culture
We at Viinitie believe that Finland is ready for a better wine culture. People are thirsty for quality, responsibility and stories in more and more glasses. That's why we want to be even more torchbearers of this cultural change and make better wines available to everyone.
Join the Viinitie Grand Crew community and you are involved in making a better wine culture.
Powered by Shopify © 2023, Viinitie Oy