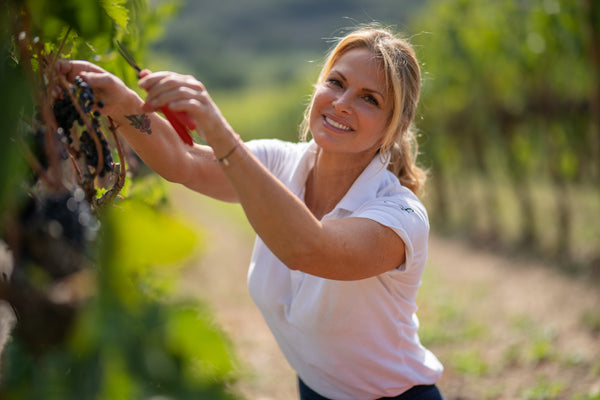 La Fiorita
The story of La Fiorita began in 1992, when Roberto Cipresso founded the farm together with his two partners. The very next year, the farm's first wines were produced, and after their release in 1998, each one was sold to the 3 Michelin star restaurant Enoteca Pinchiorri. Three years later, Natalie Oliveros from New York, who made wines with Roberto, bought the farm for herself and in 2014, the farm's first batch of Rosso La Fiorita was produced. Since 2016, Natalie's partner in the cellar has been consulting oenologist Maurizio Castelli and business partner Louis Camilleri. In 2017, the construction of new premises in Castelnuovo de Abate began, and the new impressive cellars were inaugurated in 2019. Since the beginning of the same year, all wines on the estate have been certified organic.

The soil and topography of the vineyard's 9 hectares of orchards have been carefully analyzed, thanks to which each of the four separate plots can be cared for exactly according to their needs. All the grapes on the farm are picked by hand, and their ripeness is ensured by pruning extra bunches from the vines during véraison, i.e. when the skins change color from green to purple. Although the permitted yield of the Brunello di Montalcino DOCG area is 7000 kg/ha, a maximum of 6000 kg is harvested at La Fiorita. The collected grapes are also carefully examined and only high-quality individuals are accepted for wine production. There are 50-70 hectoliter cement tanks in the cellar, where the grapes are allowed to ferment for a week and then macerate for up to 25 days. After fermenting the wines are allowed to develop and mature in peace in large 50 hectoliter Slavonian and French oak barrels. Riserva classified wines mature in barrels for up to 36 months. When making Brunellos, time is of the essence, and La Fiorita's Brunellos are released on the market no earlier than 4.5 years after harvest.
As a province, Tuscany is still very patriarchal, but there is definitely no shortage of punch from former adult film actress Natalie. Very quickly, the wines made without compromise by the maiden raised by her Italian grandmother have risen to the top of the region and received numerous words of praise from the international wine media. Natalie never stops coming up with ideas, such as the latest wine in the selection, the rose wine Ninfalia aged in egg-shaped cement containers.
TIla's annual production is just under 70,000 bottles.
https://www.lafiorita.com/en/home/home