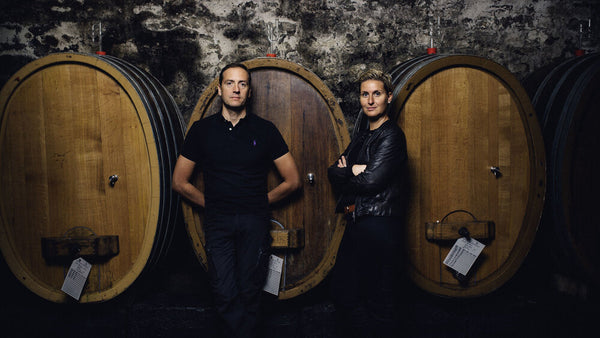 Kühling-Gillot
The history of the Kühling-Gillot farm, located in the village of Bodenheim in the northeast of Rheinhessen, goes back a couple of centuries. In 2002, after graduating as a winemaker from Geisenheim, Carolin Spanier took over the responsibility of running the family farm from her parents, Gabi and Roland Gillot. Together with her husband Hans Oliver Spanier, Carolin has managed to raise the estate to the top tier of wine producers in Rheinhessen. This power duo is also responsible for Hans Oliver's family farm BattenfeldSpanier, as well as taking care of the couple's two sons.
Both of the couple's wineries follow the same principles: the vineyards are managed with organic and biodynamic methods, and in the cellars they try to bring out the terroir characteristics of each vineyard as little as possible. At Kühling-Gillot, there is no rush with the wines, but they are often brought to the market only when they are 2-3 years old, first allowing them to mature in peace in the farm's cellar. According to Carolin and Oliver, with this maturation time, the grape flavor of the wines steps aside, giving way to the characteristics of the soil and the vineyard. The wines are powerfully intense, and you can feel how the natural yeast strains and the long lees maturation in decades-old oak barrels support the abundance from the grapes in the orchards. According to Carolin and Oliver, Riesling is the best variety to describe the potential of the region's terroir.
The estate's Qvinterra Riesling is a blend from vineyards located in five different villages, Oppenheim, Nierstein, Nackenheim, Bodenheim and Laubenheim. The farm's orchards are located in the northern parts of Rheinhessen, where the soil is mainly red slate. The farm's portfolio also includes wines that are made exclusively from the farm's five Grosse Lage and three Erste Lage plots. The farm's specialty is the Kapellchen plot located in the Rothenberg garden, the vines of which were planted in the early 1930s. At that time, the law did not yet oblige winegrowers to use rhizomes resistant to wine aphids, which is why the wine obtained from the plot is called 'wurzelecht'.
In 2015, Falstaff named Carolin Spanier-Gillot Winemaker of the Year. In 2018, the farm was named Vinum Winery of the Year and Eichelmann Wine Estate of the Year. In its 2020 guide, Gault & Millau chose Nackenheim Rothenberg Riesling Wurzelecht 2018 as Germany's best dry Riesling, giving it a full 100 points. Kühling-Gillot belongs to the VDP association of German quality wine producers.
https://www.kuehlingandbattenfeld.com/en/interconnected