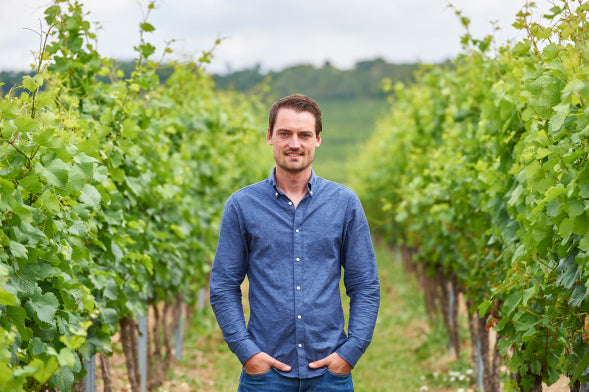 Krämer
In Gau-Weinheim, a slightly more unknown area of the western part of Rheinhessen, there is a winery piloted by Tobias Krämer. Krämer's family has been farmers for 6-7 generations, and Tobias' father became very enthusiastic about wine growing, investing more in it than previous generations. Tobias decided to follow in his father's footsteps and studied enology in Geisenheim between 2012 and 2016. In addition, before taking over the family farm, Tobias worked at other well-known farms in Rheinhessen.
The orchards of western Rheinhessen are steep and the soil is particularly rich in minerals, consisting of limestone and clay. Krämer owns a total of 21 hectares of barns, and some barns are also rented out. An exceptional amount of Sauvignon Blanc grows in the orchards, covering up to 20% of the entire orchard area. In addition, Tobias grows Riesling, Grauburgunder, Weissburgunder, Chardonnay, Merlot and Spätburgunder.
Tobias' wine philosophy is very simple. He knows exactly which direction he wants to take his vineyards and works in his cellar on the conditions of the wines, respecting the typical characteristics of each grape variety. The shelters follow organic methods of operation, and in the future Tobias plans to certify his shelter for organic production. As a rule, the wines age in steel tanks, in which case the pure aromas of the grapes come out best. The precise idea that is the guiding thread of the production is also crystal clear in Krämer's wines. The message is also conveyed in Krämer's varietal wine range, which is aptly named Straight.
The farm's total annual production is around 200-250,000 bottles.
http://www.kraemer-straight.de/