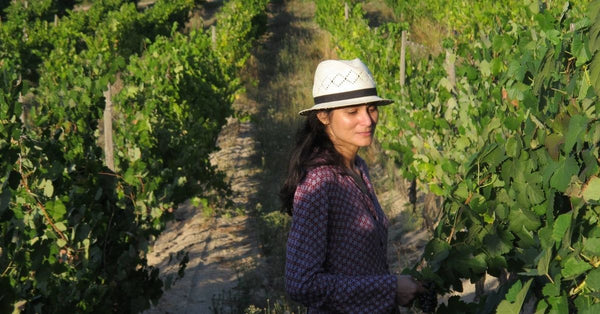 Kelman
Dão is one of Portugal's oldest recognized wine regions, having received the designation of origin that predates the current DOC as early as 1908. Surrounded by mountains, this wine region is sheltered by Serra da Estrela, Serra do Caramulo and Serra da Nave on granite soil. As in many other wine regions of Portugal, too In Dão, the focus is on cultivating the country's local grape varieties: Touriga Nacional, Tinta Roriz, Jaen, Alfrocheiro, Encruzado, Bical, Cerceal and Malvasia Fina.

Juliana Kelman's roots go back to both Europe and South America. Juliana's grandparents left Europe in the 1940s hoping for a new life and moved to Brazil. Thus, Juliana has dual citizenship of both countries, but since 2013, when she started her wine project in Portugal, she is equally rooted To Dão's territory, like his creeper.
Juliana's dream in her everyday work is to show the rest of the world how great wines from Touriga Nacional and Encruzado can be made by combining traditional methods with today's oenological know-how. Juliana's wines combine authenticity, quality, elegance and gastronomy. The vineyards are managed with nature-respecting and sustainable methods in order to preserve the ecosystem. Although the area is hot in summer, the nurseries are not irrigated artificially. All the farm's wines are made from grapes from their own orchards, which are picked by hand. 6 hectares of nurseries were planted in 2000 and half of these nurseries are dedicated to Touriga Nacional. Recently, Juliana also acquired 2 hectares of very old vines, some of which date back to 1931. From these oldest vines comes her garden blend, Dez Castas wine.
Juliana's farm is located in the town of Nelas, with the paddocks reaching an average of 430 meters above sea level. The orchards located on the slopes and the sandy soil help to balance the abundant 900 mm annual rainfall. The temperature variation between night and day is large, which enables the grapes to fully ripen, but also preserves their own natural freshness. In the cellars, some of the wines are made in traditional granite lagers, where they are crushed with feet, and some of the wines are made in the most modern steel tanks. Oak barrels are used judiciously in maturing the wines, rather to support the development of the wines than to cover their natural fruitiness. All Juliana's wines are also suitable for vegans.
The farm's annual production is around 40,000 bottles.​​
https://www.kelman.pt/home