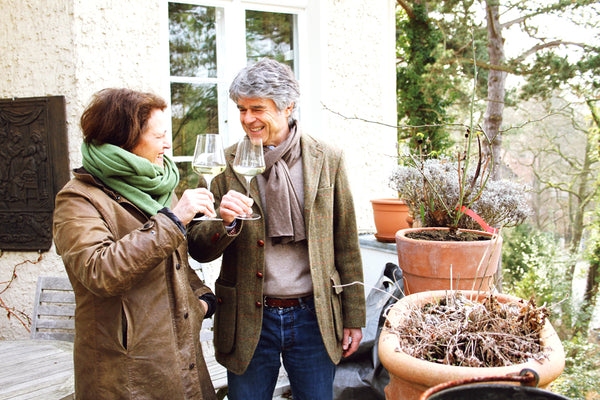 Karl Schaefer
Karl Schaefer is one of the most awarded premises in the German Palatinate (e.g. Mundus Vini 2015), which is not at all a self-evident achievement in a prestigious region. The farm's history stretches back to 1843, when physician Christian Schaefer founded the winery bearing his family name. Nowadays, the von Nell couple Nana and Job, who bought the farm from the Schaefer family, are at the helm. The estate's reputation began to grow in 2008, when Jan Gross, a native of Baddürkheim, started as the estate's winemaker. Janin managed to raise the farm to one of the best in the region, in the same way as Gernot Kollmann in the Mosel with the Immich-Batterieberg farm.
Schaefer's farm produces 85% Riesling on its 17-hectare paddocks. In addition to ideology, geographical factors force handiwork in garden work, among which terrifyingly steep terrace slopes are by no means the least. Many of the producers' orchards in the region are located on flat lands where mechanical work is possible, but the terraces force Schaefer's orchard team to work by hand. Up to 85% of all nurseries are on terraces, and nurseries worked with pietet are certified organic.
The farm's approach to winemaking is traditional. The underground cellar is naturally cool, so no extra energy is needed to control the temperature of the wines. The grapes are pressed as whole bunches and the grapes from the best orchards are allowed to extract for a few hours in a cool place. Increasingly, wines ferment spontaneously without commercial yeasts, and the current winemaker Johann Seibt's goal in 2020 is to make wines using a completely natural yeast strain. The juices are allowed to darken and oxidize before fermentation, which is why the farm's wines are extremely lively and can withstand a long maturation. Rieslings and the estate's Weissburgunder do not go through malolactic fermentation. Depending on the cuvée, small steel tanks or ancient oak barrels are used in the production of wines. The wines are allowed to mature on the lees for as long as possible, until the market demands a new vintage for sale. Sulphite additions are considered moderate, as the total sulphite content of the wines always remains below 100mg/l.
The wines of the estate run by a young team are clean and disarmingly acidic. In Rieslings, the sandstone soil of the region comes out nicely through the minerality. The farm's wine style has always been mainly dry, even in the 1960s and 1970s, when the majority of producers in the country produced as sweet wines as possible. Schaefer, who is remembered for his label with two foxes, makes unforgettable white wines that, when tasted, make it clear why German Riesling is considered the best in the world in its style. Karl Schaefer belongs to the VDP association of German quality wine producers.
The farm's annual production runs around 80,000 bottles, depending on the harvest.
https://karl-schaefer.com/en/