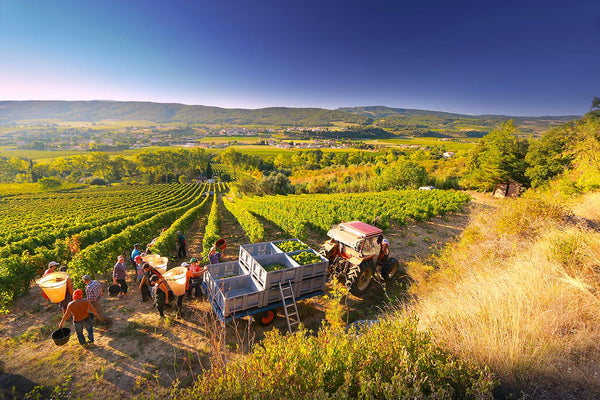 J. Laurens
The Limoux region in Languedoc-Roussillon is known for its annual carnival, the world's longest running, but the region also produces a significant amount of sparkling wine. It has been said that world the first sparkling wines were produced most likely in the Limoux region in the year 1531 in Saint Hilaire Abbey of the Benedictine monks. The history of the J. Laurens farm does not extend back quite five hundred years, but the winemaking philosophy is very traditional. Located in the village of La Digne d'Aval, 5 kilometers from the city of Limoux and close to the famous historic village of Carcassonne, J. Laurens has been producing Crémant de Limoux and Blanquette de Limoux wines since the 1980s. Michel Dervin, who got his start in Champagne, decided in 1984 to get himself a few orchards in the Limoux region and started producing Blanquette de Limoux from the local apple Mauzac variety. In 2002, entrepreneur Jacques Calvel, who became Swiss but was born in Limoux, became interested in Dervin's project, and together with winemaker Henri Albrus decided to build a proper winery in connection with the vineyards to ensure the production of quality wines year after year.
In addition to Mauzac, Chardonnay, Chenin Blanc and a little Pinot Noir grow in the farm's 40-hectare vineyards. The well-being of the nurseries is taken care of while respecting the environment and the fertilizers used are organic. The harvest quantities in the orchards are kept limited, so that the grapes are suitably concentrated. The grapes are picked by hand and transported to the winery in perforated boxes, which keeps the bunches in good condition. After pneumatic and gentle pressing, the first fermentation of the wines takes place in steel tanks and the second fermentation in bottles. Depending on the wine, lees maturation takes 12-30 months.
The farm's annual production is around 450,000 bottles.
https://www.jlaurens.fr/