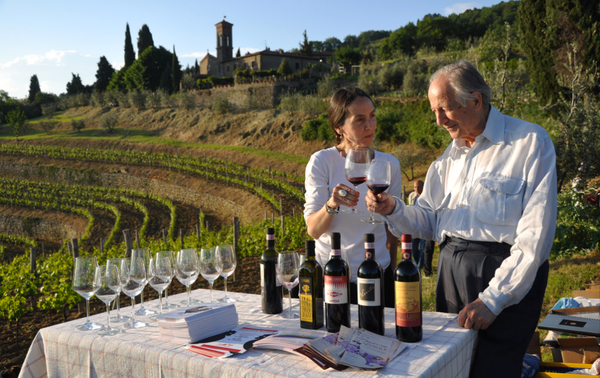 I Fabbri
I Fabbri is a traditional family farm in the village of Lamole, in the Chianti Classico region, just above Greve. The Grassi family has been producing wine since 1620 and the estate has been passed down from generation to generation. Susanna Grassi, a passionate winemaker-multitasker, is currently responsible for the operation of the farm.

The farms of the farm are located on the slopes of Casole, right next to Lamole. There are a total of 9 hectares of vineyards and they are managed with natural methods while respecting the environment. This has been done for several decades, but the farm received organic certification in 2009. The wine plots rise along the southern slope from 450 meters up to 680 meters. The oldest plot is from 1984. The soil in the area is poor and sandy - the roots of the vines twist deep below the ground in the hope of nutrients. The temperature differences between the times of the day are considerable. During the day the sun shines and the temperatures often rise high, at night the cool air conquers the fields. The area is characterized by a constant gentle breeze. The view filled with vineyards is also sweetened by two hectares of olive trees.

Terroir and traditional winemaking techniques are held in high esteem, and the cellar, for example, does not use today's technology or temperature regulation. I Fabbri's classic wines have the freshness and acidity typical of the Lamole region. For several years, the winemaker Susanna made wines together with her sister Maddalena, until Maddalena realized that her own passion was somewhere other than between the vines or in the cellar. So Maddalena decided to follow her instinct and Susanna took over the entire winery. Susanna has a team of three to help her. The farm's name refers to the blacksmith's workshop located in the neighboring village, as this used to be the Grassi family's second main occupation, alongside viticulture.
https://www.ifabbrichianticlassico.it/en/