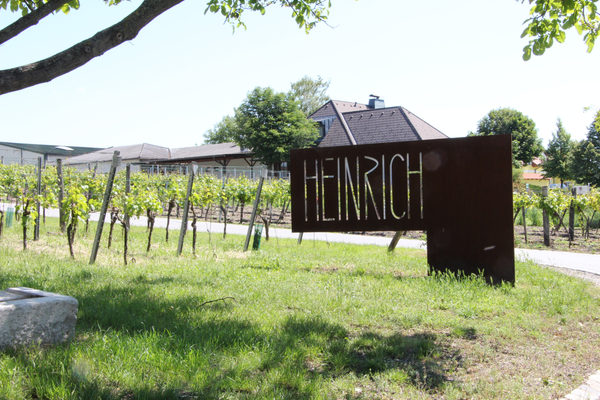 Henrich
Gernot Heinrich is one of Austria's best winemakers - he regularly gets a full five stars in Peter Moser's Falstaff guide and his top wine Salzberg enjoys an international cult reputation.

Heinrich's family farm, located in Gols, on the foothills of Lake Neusiedlersee, has been farming since 1730. Back in the time of Gernot's grandfather and father, most of the vines were white, but when Gernot took the reins in 1985, he planted 90% red varieties in his orchards, because Burgenland is the warmest of Austria's wine regions due to the Pannonian winds and is thus able to ripen red grapes as well. The grapes selected were the traditional varieties of the region, Zweigelt, Blaufränkisch and St. Laurent, in addition to the international Merlot and Pinot Noir.
In the beginning, Heinrich produced strong red wines to please an international audience. In 2006, however, everything changed, when the Heinrichs began to use biodynamic principles emphasizing naturalness in their nurseries. As a result, the harvests decreased and the physiological maturity of the grapes was reached earlier, so less sugar accumulated in them and the wines became lower in alcohol. The wine style became significantly fresher than before. Around the same time, Gernot and Heike also realized that the limestone soil of the Leithaberg hill and the cool east-facing orchards are also perfect for making white wines. A few years later, they started fermenting white grapes with long skin contact, as they wanted to preserve their aromatic potential, as well as bring finesse and a fresh mouthfeel to the wines. Some of the wines made with skin contact are also bottled in clay bottles instead of normal glass bottles.
Heinrich's wines are pure and concentrated, and balance nicely between modern and traditional style. When making red wines, the motto is "adding nothing, subtracting nothing". Most red wines can handle a maximum of 40mg/l of sulfur dioxide, because lees maturation gives the wines protection against oxidation. The use of oak is elegant, and a heavy mouthfeel is not hunted at the expense of balance.
Currently, the red varieties are still in the majority in nurseries, but the number of white varieties is increasing all the time. The total orchard area covers about 90 hectares, and white varieties now account for about a quarter. About one third of the white wines can be aged with skins, but Gernot's goal is to increase the amount of orange wines by up to 50%. Gernot is a good example of how a wine grower and producer lives in constant change, and how challenging oneself keeps the mind fresh!
Like many other biodynamic producers, Heinrich belongs to the respect-BIODYN organization.
The farm's annual production is around 450,000 bottles.
https://www.heinrich.at/en/