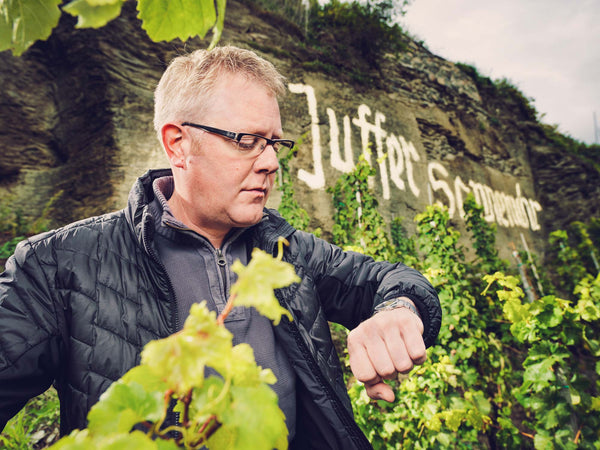 Fritz Haag
Fritz Haag's 28-hectare paddocks rest on south-facing slopes conquered by Devonian slate. The farm's most famous plots are located in the 32-hectare Grand Cru-classified Brauneberger Jufferi paddock, which also includes the slightly warmer 10.5-hectare Juffer Sonnenuhr paddock. Some of the farm's plots are dizzyingly steep, with slopes reaching up to 80 percent. Oliver Haag spends his time at these nurseries every day of the year.
The story of the Fritz Haag winery, located in the middle parts of the Moselle, dates back to 1605, when the name of the farm was first mentioned in the history books. At that time, the town of Brauneberg was still known by its former name, Dusemond. In order to give even more value to its famous farms, which were already noticed by Napoleon, the village changed its name in 1925. As a historical tribute, the estate piloted by Oliver Haag still uses the name Dusemonder Hof in its wines.
Oliver inherited the farm from his father Wilhelm, born in 1937, who had been helping his own father on the farm since he was 20 years old. Gault Millau named Wilhelm the German winemaker of the year in 1994, and for 20 years he was the leader of the Mosel-Saar-Ruwer VDP. Later, the farm has collected even more merites, as in 2008 Gault Millau and Wein-Gourmet magazine gave the farm the Collection of the Year award. Since 2005, Oliver, who has run the space together with his wife Jessica, feels that what he does in the barns and cellars is more of a passion than a job. The couple is also curious to see what their colleagues around the world are doing and what wines they are enjoying, each at their own dining tables.
Fritz Haag's wines can be characterized as extremely clean and clear, as they embody the Mosel's extremely unique style in a textbook way. According to Oliver, the single most important factor in terms of the quality and characteristics of the wines is the time of the grape harvest. At Juffer's vineyard, noble mold sometimes forms on the grapes, which allows Oliver to produce Auslese, Beerenauslese and Trockenbeerenauslese. Fritz Haag's wines ferment spontaneously without added yeast in both steel tanks and old oak barrels.
The farm's annual production is around 180,000 bottles.
https://weingut-fritz-haag.de/en/