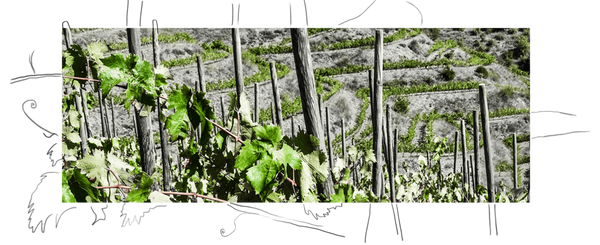 Franck Massard
"To make good wines, you have to take risks in the vineyard and in the cellar. Planting vines in harsh conditions, on steep slopes where extreme conditions prevail, is only the first step in the production of top wine".

Franck Massard started his wine career in the restaurant hall and in 1996 he was chosen as the best sommelier in Great Britain. After getting tired of pouring wine, Franck decided to jump over the fence and learn how to make wine. Torres recruited young talent into his ranks. Massard enjoyed working for a large company for eight years, but during that time the idea of running his own winery came to mind. In 2004, his old sommelier friend decided to get himself a vineyard in Priorat and together the gentlemen started working on their dream come true. The first wine created was Huellas, with which Franck realized that especially patience, passion and diligence are necessary in winemaking. In 2009, Epicure Wines started its operations.
While touring Spanish wineries, Franck began looking for vineyards with high potential, most of which were extremely old plots that had been abandoned due to their marginal climates and/or low yields. At the same time, he met farmers who produced incredibly fine wines, understanding the diversity of nature. As Franck's passion grew even more, he also started making wines in the regions of Ribeira Sacra, Terra Alta and Valdeorras, as well as helping local producers get their wines to the international market.
Massard's wines stand out both in the glass and on the shelf. For example, the label of Más Amor in the selections of Viinitie has graffiti, which is probably the first of its kind in the history of wine. In terms of style, the wines are a combination of innovation and tradition. The wine bearing the Massardi name doesn't stay on the radar any more than it's a drag. Instead of excesses, Massardi's wine successfully balances the horizons of the freesate industry in the middle ground between new and old ways of thinking.
Franck's latest project is a 6-hectare vineyard near the town of Poboleda in Priorat, which he bought together with his friends and partners Melinda Whiteside and David Forer MW. We look forward to the results of the project!
Tule mukaan luomaan parempaa viinikulttuuria
Me Viinitiellä uskomme, että Suomi on valmis parempaan viini- kulttuuriin. Ihmiset janoavat laatua, vastuullisuutta ja tarinoita yhä useammassa lasissa. Siksi haluamme olla entistäkin enemmän tämän kulttuurimuutoksen soihdunkantajia ja tuoda paremmat viinit kaikkien saataville.
Liity Viinitien Grand Crew -yhteisöön ja olet mukana tekemässä parempaa viinikulttuuria.
Powered by Shopify © 2023, Viinitie Oy