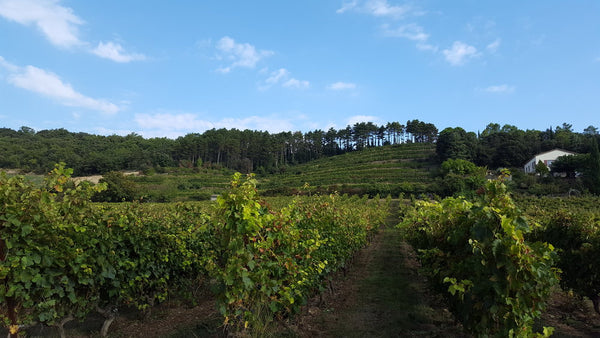 Eric Texier
The down-to-earth and all-around modest Eric Texier is considered somewhat of a cult producer both in France and abroad, although he is still an unknown figure to the general public. Texier is a winemaker profiled largely as a natural wine producer, against his own will, whose wines come from three different production areas: Northern and Southern Rhône and Mâconnais.

The vineyards in the different regions cover an area of about twenty hectares. Each wine is vinified in its own area, but aging takes place in Eric's home cellar. Texier's production philosophy is terroir-oriented, which explains the recognizable personality of the wines. The intervention of the winemaker in the natural fermentation process is kept to a minimum throughout the production process, so that the wines express their growing conditions. The production methods are thoroughly organic. According to Texier's philosophy, wine should not be forced into the molds dictated by the market. More important than adapting to the ever-changing whims is to provide the vines with care and bring vision to the winemaking process. Eric's wines can be called garden wines in the true sense of the word.
In winemaking, Texier uses wild yeasts. He chooses fermentation vessels between steel, concrete and oak, depending on the characteristics of the grapes and vintages. The addition of sulfur is minimized and the wines are processed as little as possible. Texier's wines are aged in traditional 228-liter oak barrels or in the largest 450-liter demi-mude. The use of new oak has been limited so that the oak does not cover the characteristics of the grapes and the characteristics of the terroirs of the wines remain as clearly displayed as possible.
Texier had a long career as a nuclear power engineer, but decided to jump from the safe rails to the side tracks. He studied for a degree in oenology and became a négociant winemaker. At first, Texier scouted the most interesting wine plots around the Rhône, after which he selected the most diligent growers who produced healthy and concentrated grapes. Texier bought the crop from them and made the wine. After slowly gaining experience, Texier, who became the subject of international incense, also acquired his own plots in the northern regions of Brézème, Côte Rôtie and Condrieu. As an educated man, Texier also keeps a pen in hand: he regularly writes about organic farming for, among others, the San Francisco Chronicle.
http://www.eric-texier.com/
Tule mukaan luomaan parempaa viinikulttuuria
Me Viinitiellä uskomme, että Suomi on valmis parempaan viini- kulttuuriin. Ihmiset janoavat laatua, vastuullisuutta ja tarinoita yhä useammassa lasissa. Siksi haluamme olla entistäkin enemmän tämän kulttuurimuutoksen soihdunkantajia ja tuoda paremmat viinit kaikkien saataville.
Liity Viinitien Grand Crew -yhteisöön ja olet mukana tekemässä parempaa viinikulttuuria.
Powered by Shopify © 2023, Viinitie Oy