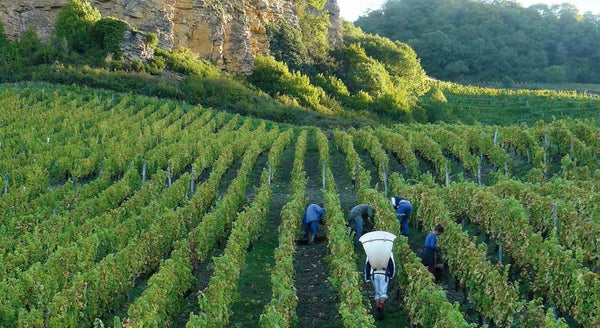 Domaine Berthet-Bondet
Domaine Berthet-Bondet is a Jura small farm founded by Chantal and Jean Berthet-Bondet in 1985. The farm is located at the foot of the Alps near the Swiss border, a good 80 kilometers east of Burgundy. The orchards of the 10-hectare certified organic winery are located in the Château-Chalon and Côtes-du-Jura appellations. Château-Chalon is generally considered the most prestigious quality classification in the Jura, as the limestone composition of its soil provides unique conditions for quality viticulture.
The farm's ideology is very organic and the entire production is organically certified and vegan. Modern technology is used to a limited extent and production is largely manual and labor intensive. Berthet-Bondet uses almost exclusively wild yeasts in winemaking. The exception is the estate's crémant sparkling wine, for which Jean prepares a "pied de cuve" yeast mixture from carefully selected yeast strains obtained from the musts of his own grapes.
The farm's lighter white wines are produced in ouillé or floral style in steel tanks. The word ouillé comes from the technical term ouillage, which refers to filling a wine barrel with the same wine, so that the evaporated wine can be replaced and no oxygen remains in the barrel.

Berthet-Bondet produces a so-called "yellow wine" (vin jaune) in Château-Chalon, which is made from late-harvested Savagnin grapes that are aged in barrels for at least six years. During maturation, a layer of yeast (sous voile) forms on top of the wine, which protects the wine from oxidation and gives the wine its distinctive character. The winery's wines are matured in its own cellar, whose history dates back to the 16th century.
Tule mukaan luomaan parempaa viinikulttuuria
Me Viinitiellä uskomme, että Suomi on valmis parempaan viini- kulttuuriin. Ihmiset janoavat laatua, vastuullisuutta ja tarinoita yhä useammassa lasissa. Siksi haluamme olla entistäkin enemmän tämän kulttuurimuutoksen soihdunkantajia ja tuoda paremmat viinit kaikkien saataville.
Liity Viinitien Grand Crew -yhteisöön ja olet mukana tekemässä parempaa viinikulttuuria.
Powered by Shopify © 2023, Viinitie Oy