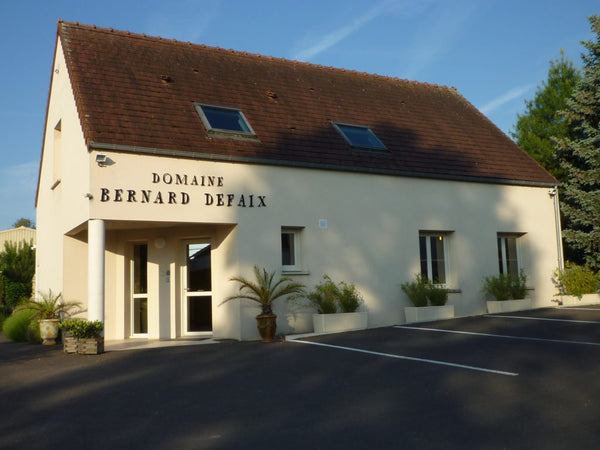 Domaine Bernard Defaix
In 1959, Bernard Defaix decided to establish a winery around his vines growing on a 2-hectare field. Thanks to methods developed in the 1960s to protect the vines from frost, the Chablis area has developed and farm sizes have increased. Today, the Defaix family also owns up to 27 hectares of vineyards in the areas of Petit Chablis, Chablis and Chablis Premier Cru. The farm is also the largest landowner in the famous Côte de Lechet farm. Both Bernardin and from the Chalonnais area Hélène's sons, of whom Sylvain is responsible for winemaking and Didier for the vineyards.
Over the years, the increased vineyard area has been managed plot by plot using organic methods, and since 2012, all wines on the farm have been certified organic. The vitality of the soil is taken care of by plowing it, so that the humus layer gets oxygen and the weeds mix with the loose material. Fungal and mold diseases are protected only by copper sulfate spraying, but the number of sprayings is also kept as low as possible. Although the farm does not have biodynamic certificates, preparations 500 and 501 and other herbal tea extracts are also used in the care of the nurseries. With these actions, the work done in the vineyards resembles even more the grandparents' ways of cultivating their own land. Studies are also carried out continuously at the shelters, so that the care of the plots can be more precisely focused on supporting and bringing out the full vitality and potential of each shelter's soil. Research also makes it easier to understand why wines made from different orchards taste different.
The harvest produced in the nurseries is harvested mechanically, because this way we are flexible when it comes to harvesting and it can be interrupted due to rain, for example. The quality of mechanically harvested Chardonnay bunches and the juice obtained from them also speaks in favor of mechanical harvesting. The grapes are quickly transported to the winery for immediate and gentle pressing. Thanks to the technology, the grapes and juice can be kept as protected as possible from oxygen. Depending on the wine, the juice is made into wine either in steel tanks or oak barrels. The wines are allowed to mature on the lees for a long time, varying between 8 and 12 months depending on the vintage and the wine. If the vintage requires it, the lees are also mixed to make the wines a little richer. To make the wines crystal clear, they are clarified and filtered before bottling. Bernard Defaix's wines are elegant examples of how characterful and rich wines are made in Chablis today.
The farm's annual production is around 190,000 bottles.
https://www.bernard-defaix.com/en/vin-le-domaine