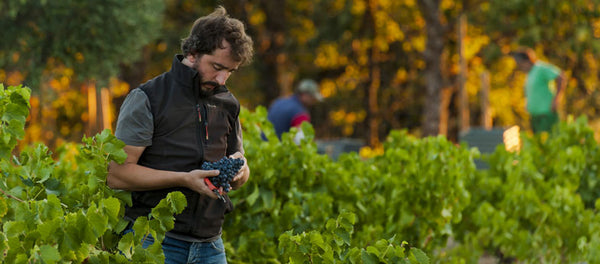 Daniel Gómez Jiménez-Landi
Daniel Landi is one of Spain's most followed winemakers, and for a reason. Originally from Méntrida, Dani was born into a family of wine growers who were used to selling their grapes to the local cooperative. Even at a young age, Dani knew that winemaking was her calling, but of course she could not have predicted that one day she would be one of the most prominent young winemakers who would bring the message of the unique style of Spanish Garnacha to the world.
There is nothing worse in Dan's story. Like many others of his age, he decided to start taking care of his family's orchards responsibly, cherishing their native varieties and old vines. Whereas Garnacha has long played the role of a workhorse in Spain, Dani and his soulmates have made it one of the country's most interesting varieties, especially grown on the granite soil of the Sierra de Gredos. Internationally, Garnachos from Gredos are often compared to pinot noirs from Burgundy and syrah wines from the Northern Rhône.
Dan's first venture as a winemaker was at the Jiménez-Land winery founded by his cousin. In 2012, however, he decided to start producing wines under his own name, keeping part of the family orchards himself and expanding his orchard areas by buying and renting a few plots. Dan's farms are located both in the Méntrida region, south of the Sierra de Gredos granite mountain range, and in the province of Ávila in the north. The village of El Real de San Vicente in Méntrida is the source of Las Uvas de la Ira Albillo and Las Uvas de la Ira Garnacha village wines, made from white Albillo and red Garnacha. In the same village, there is also an over 60-year-old Garnacha vineyard, whose grapes are used to make Cantos del Diablo. In the village of Las Iruelas, located in the north of Ávila, El Tiemblo is born, and in the village of Cebreros, the slate El Reventón. Also producing strong Garnacha wines from Las Iruelas the garden consists of over 60-year-old vines that grow on soil filled with clay and sandy granite and slate.
All of Dan's nurseries are united by their high location, well-permeable stony soil and mild microclimate. These characteristics make the growing season long, producing aromatic wines with balanced alcohol content. The harvest usually takes place in October, when the grapes from the patchwork orchards are picked by hand and used spontaneously as whole bunches in large French oak barrels. The wines are allowed to mature in peace in 300-700-liter oak barrels and in large containers, due to which the characteristic features of the grapes and terroir are best brought out without being masked too much by the oak aromas. There are also some clay amphorae in Dan's basement.
Working with piety and a philosophy that respects the origin of grapes have made Dani Landi's name famous and his wines particularly sought after around the world. In our opinion, this is exactly how world-class wines are made, and we are happy to join Dan's growing following.
http://www.danilandi.com/