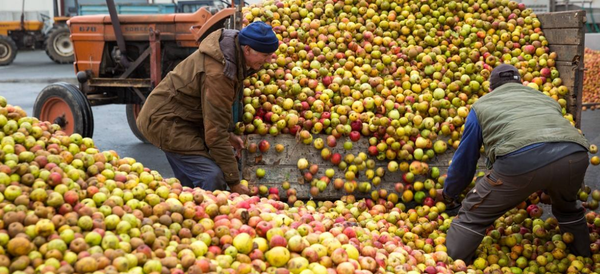 Cidre Kerné
Founded in 1947 by Pierre Sachedina, Cidre Kerné has relied on two values from the beginning: quality and craftsmanship. The same values guide the activities of Pierre's grandchildren Anne, Gérard and Claude, who run the cider house today, even though the production has been modernized. Today, the operation is a great combination of tradition and modern technology.
All of Cidre Kerné's ciders are made from pure apple juice. All the apples used in the ciders come from the Brittany region, and the cider house's products are subject to the IGP designation of origin. The know-how accumulated over three generations about apple varieties and their suitable mixing ratios and fermentation processes ensure the top quality of Kerné's products. Kerné's ciders emphasize intense flavors and the characteristics of the varieties.
Kerné's ciders are made using more than twenty different varieties. Suitable varieties are carefully selected under four categories: tart (e.g. Kermerrien, C'huero Briz, Marie Ménard), tart sweet (e.g. Dous Moën, Peau de Chien, Prat Yeot), sweet (e.g. Dous Coët Ligné, Avalou Beleinn) and sours (eg Guillevic and Rouget de Dol).
The apples are collected when they are ripe and they are carefully washed after a short storage period. The apples go through a strict sieve and only the highest quality apples make it to juice. After that, the apples are finely ground and squeezed into juice. This juice is called 'wort'. Apple juice stored in tanks clears on its own in 5–10 days. The clear juice is allowed to turn into cider. During fermentation, the natural sugar in the apples turns into alcohol with the favorable help of natural yeasts. Kerné's ciders are allowed to ferment slowly, which gives the ciders time to develop more complex aromas. Finished cider is monitored regularly through tastings and analyses. Before bottling, the cider is filtered to get rid of any remaining yeast and avoid a second fermentation in the bottle.