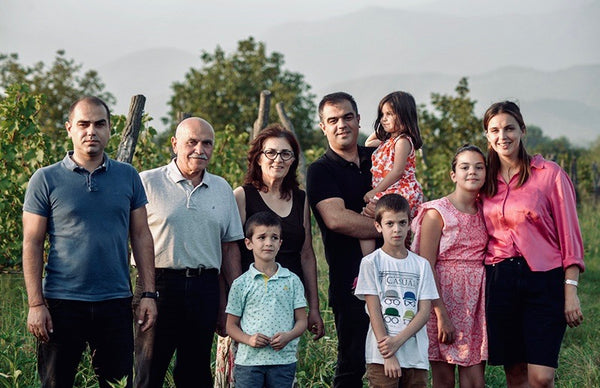 Chona's Marani
The Kakheti wine region is the largest wine region in Georgia, located east of the capital Tbilisi. Due to the large size of the area, it can be divided into 13 different sub-areas, which differ from each other in terms of, for example, the height of the vineyards and their soil type. The climate is generally subtropical, humid and warm.
Mikheil Chonishvili's tiny winery is located in the town of Telavi, in the Tsinandali region of Kakheti, and covers only 2 hectares of vineyards. Mikheil produces three different white wines and one red wine from the grapes cultivated with organic methods in these orchards, all of which are made in traditional kvevri clay vessels. Both in the nurseries and in the cellar, all the work is done by the family themselves. The nurseries grow native Georgian varieties, white Rkatsiteli and Mtsvane, and red Saperavi.
The grapes used for the wines are hand-picked from the orchards after they have reached their optimal ripeness. After that, they are crushed directly into kvevres, where fermentation begins with the help of the natural yeast strain in the skins of the grapes. The skins and skins of the wine are actively mixed with the juice so that they extract a lot of structure into the wine. When the wines have gone dry, the kvevri are locked and covered with sand, and they are allowed to rest until spring. In April, the wines are transferred to other kvevres, when they are also separated from their skin mash. After natural clarification, the wines are bottled and their final sulfur dioxide content is very low, only about 35mg/l.
http://www.chona.ge/en/index.html
Tule mukaan luomaan parempaa viinikulttuuria
Me Viinitiellä uskomme, että Suomi on valmis parempaan viini- kulttuuriin. Ihmiset janoavat laatua, vastuullisuutta ja tarinoita yhä useammassa lasissa. Siksi haluamme olla entistäkin enemmän tämän kulttuurimuutoksen soihdunkantajia ja tuoda paremmat viinit kaikkien saataville.
Liity Viinitien Grand Crew -yhteisöön ja olet mukana tekemässä parempaa viinikulttuuria.
Powered by Shopify © 2023, Viinitie Oy