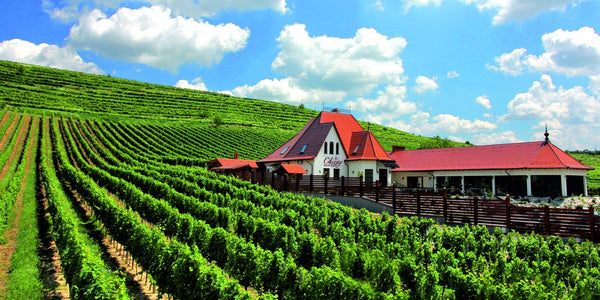 Chateau Chizay
Wines are probably not the first thing that comes to mind of Ukraine, but wine has been grown in the country since the 11th century. The country's wine production has been influenced by the winemaking traditions of Hungary, Austria and Italy. Located in western Ukraine, in the border neighborhood of Slovakia, Hungary and Romania, the first mentions of grapes in Transcarpathia date back to 1093, and today new vineyards are constantly being planted in the area. During the last twenty years, Ukrainian wine production has focused on quality instead of quantity, and the conditions of Transcarpathia create a great framework for the production of quality wines. The Carpathian Mountains protect the area from cold northerly winds, making the local climate mild. The rainfall is optimal and the abundant sunshine ripens the grapes to a balanced state. Also, the volcanic soil of the Carpathians makes the growth medium for the vines particularly rich in minerals, so the starting points for the production of quality wines are more than in place.
Chateau Chizay started in 1995 and the farm's nurseries were planted with Austrian help in 2006. In total, vines grow on 272 hectares, divided into three different nurseries in the Chizay valley. The farm's first wines were released in 2010, and in just over ten years, the farm's annual production has been increased to up to 1.3 million bottles. The nurseries grow 14 different varieties, such as Riesling, Furmint, Muskat Ottonel, Pinot Blanc, Cabernet Sauvignon, Merlot and Pinot Noir.

Chizay's modern winery also houses a restaurant, a small hotel, and a museum. Before the war of Russian aggression, up to 14,000 people visited the farm every year, and thus half of the farm's annual wine production was also sold directly from the farm. Chizay's wines are also exported outside the country, and especially in restaurants, the wines offer guests unique experiences. In the farm's cellars, there are a lot of French oak barrels, where the range of matured wines can be completed over time.
For Chateau Chizay and Ilan Radom, who runs it, making good wine is not enough. They want to create something unique, and make Western Transcarpathia a well-known and recognizable wine region. Chizay is the first Ukrainian winery to become a member of the climate-responsible Porto Protocol. When drinking the farm's wines, there is no doubt that Transcarpathian wines have a place among the international wine world.
https://chizay.com/en/