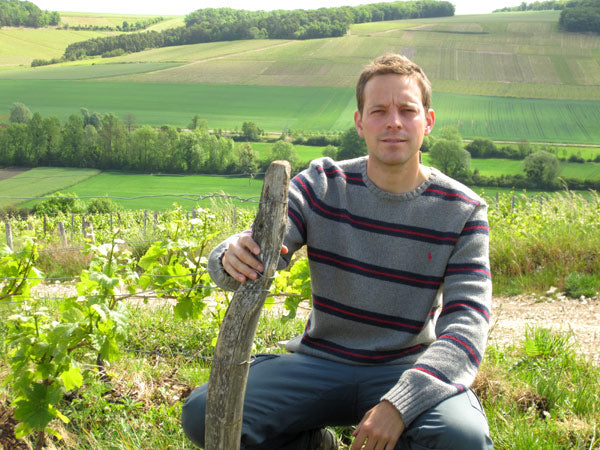 Champagne Rémi Leroy
After graduating as oenologist and agricultural engineer from the University of Bordeaux in 2006, Rémi Leroy decided to return to his hometown of Meurville. In the area of a small town in the Côte des Bar region, the Leroy family had cultivated 9.5 hectares of vineyards for several years, but until now had sold the production of the vineyards to the big champagne houses. Rémi decided to start vinifying a third of the grapes himself, and thus the winery bearing his name was born.
The Côte des Bar area is a little warmer than the more northern Champagne and in many respects more similar to Chablis. Aube's vineyards also rest on Kimmeridge limestone, while the top soil is calcareous clay. 70% Pinot Noir and 20% Chardonnay grow in Rémi's orchards. The rest of the orchard area is conquered by Meunier, but Rémi's purpose is to increase the area under Chardonnay. The average age of shelters is around 23 years. In 2021, Rémi is supposed to start the conversion towards organic wine growing and production.
As his experience accumulates year after year, Rémi has moved to more and more minimalist winemaking. After the grapes are gently pressed, the juice is allowed to settle naturally before the fermentation process begins with the help of the yeast strain in the grapes. Due to the gentle handling of grapes and juice, Rémi has been able to reduce the oxidation of the juice and with it also the necessary amounts of sulfur dioxide. The wines are stored in steel tanks and Burgundian oak barrels. The region of Aube allows the grapes to be picked when they are ripe, so the dosages can also be kept low. The wines are not clarified or filtered at any stage.
In Rémi's wines, you can taste what real champagne is all about: vineyard work that respects the terroir, ripe grapes and patience. These wines also work best throughout the meal when combined with various dishes.
The farm's annual production is around 45,000 bottles.
https://www.champagne-remi-leroy.fr/#top