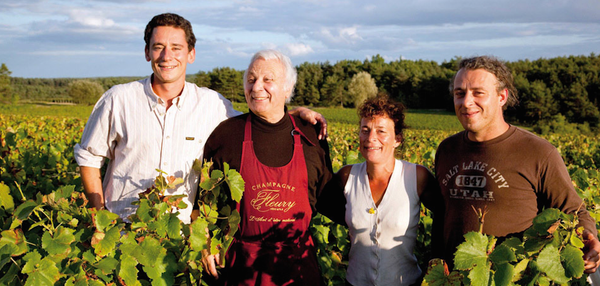 Champagne Fleury
The Fleury champagne family is a pioneer in biodynamic champagne production. The farm was founded in 1895 and the starting shot towards organic production was already heard in 1970. At that time, the third generation champagne producer, Mr. Jean-Pierre Fleury, decided to strive towards the highest possible quality of winemaking by means of composting, organic fertilizers, manual labor and as little intervention as possible. The farm's oldest nurseries date back 50 years, when Jean-Pierre replanted his vines.
In 1989, Jean-Pierre took a bold step forward by converting three hectares of his family's farm to biodynamic. Herrti had strong faith that completely natural cultivation methods would produce even better champagne. The good results encouraged further development of natural cultivation methods: three years later, the entire 15-hectare farm was biodynamically cultivated. In addition to its own orchards, the farm buys 7 hectares of grapes from two farmers who also switched to biodynamic viticulture already in the 1990s.
The Fleury Père & Fils champagne house is located in the Côte des Bar of southern Champagne, in the small village of Courteron. The soil is limestone typical of the area. Pinot Noir vines cover 85% of the area, while Chardonnay vineyards cover 10%. In addition, the farm grows small amounts of Pinot Blanc, Pinot Gris and Meunier.
The farm's wines are made using traditional methods. With the help of two basket presses and one pneumatic press, hand-picked grapes can be pressed as soon as they arrive from the orchards to the cellar. Since 2008, each plot has been vinified separately to ensure the quality of the grapes. With the help of gravity, the juice flowing into the fermentation vessels is allowed to ferment spontaneously and the wine rests on the lees until spring. During the mixing, before the second fermentation, part of the wine is transferred to the solera, which was started in 2007, consisting of reserve wines. This batch of wine is stored in barrels purchased from the Cognac region and each year the reserve wine is used in the estate's Blanc de Noirs and Fleur de l'Europe blends. All the estate's wines mature for at least 3 years in the cellars, and some of the wines are released only after 10 years of lees maturation. These wines get better with time!

Today, the farm is run by Jean-Pierre's children. Morgane is responsible for wine sales, Jean-Sébastien works in the cellar and Benoît in the nurseries.
The farm's annual production is around 200,000 bottles.
http://www.champagne-fleury.fr/