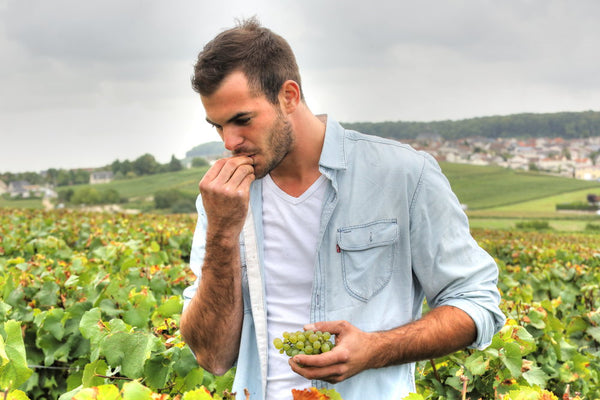 Champagne Dhondt-Grellet
The Dhondt-Grellet champagne estate began in the village of Flavigny near Avize in 1986, when the Belgian-born Éric Dhondt and his Champagne wife Édith Grellet decided to stop selling their grapes to champagne houses and started making wines that express the terroir of the Côte des Blancs themselves. Now the couple's son Adrien, born in 1991, continues to take care of the family orchards and make wines together with his wife Alice. Adrien has also tripled the family's original 2-hectare vineyard in the villages of Cramant and Cuis, thereby increasing wine production. Currently, the selections also include bottles from one village and one vineyard, which testify to Chardonnay's phenomenal ability to reflect its terroir.
Adrien's biggest role models include Burgundy and Champagne growers such as Coche-Dury, Vincent Dancer, Jean-Yves Bizot and Anselme Selosse. According to the masters' teachings, Adrien also believes in living soil and calls himself a peasant farmer. Although the farm does not have an organic certificate for the time being, no synthetic chemicals are used in the nurseries, but they rely on plowing between the vines and using self-made compost. The vines are cut short and their yields are kept moderate so that the grapes produced are ripe and concentrated.

In the cellar, Adrien relies on spontaneous fermentations and uses most of his wines in oak barrels. The juice is allowed to settle for only 6 hours and the use of sulfur dioxide to protect the wines is minimal. The cellar is neither air-conditioned nor cooled, so the wines are made at the mercy of natural weather conditions. The basic wines mature on the lees for eight months before the second fermentation, and are not stabilized, clarified or filtered. Malolactic fermentation is also not prevented. The treasure of the family's cellar is a reserve wine warehouse maintained using the solera method that stretches back to the year the farm was founded, of which a third is used each year for the production of that vintage. Along with the annual wine addition, the lees of the fresh wine are also added to the vessel to bring multidimensionality to the reserve wine. Depending on the barrel needs of the cellar, the reserve wine is sometimes stored in barrels, sometimes in steel tanks.
The farm's annual production is around 48,000 bottles.